Plums with red wine and rosemary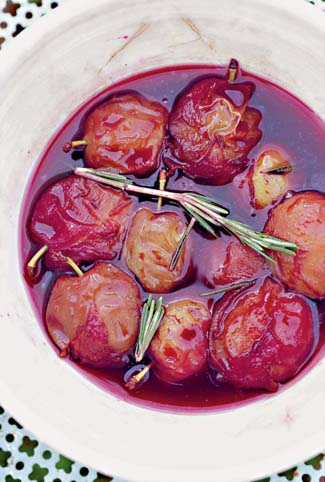 From Diana Henry, Food From Plenty (Mitchell Beazley, 320pp, hardback stg£20)

"Based on an idea from the wonderful Italian food writer Anna del Conte in her book Food From an Italian Kitchen. Rosemary in plum compote is fabulous, and it's good with poached pears, too."

Serves 6

400ml (14fl oz) red wine
225g (8oz) caster sugar
1 strip of lemon zest
2.5cm (1in) cinnamon stick
6 black peppercorns, lightly bruised
3 rosemary sprigs
900g (2lb) plums (just under-ripe)

1 Put everything except 2 of the rosemary sprigs and the plums in a saucepan, add 200ml (7fl oz) water and heat gently until the sugar dissolves, stirring. Bring to the boil and cook for 2 minutes.

2 Reduce to a simmer and add the plums. Cook very gently until the plums are just soft. (Be careful; they fall apart easily.) How long it takes depends on the size and ripeness of the plums. Carefully remove the fruit with a slotted spoon to a serving dish.

3 Strain the juices (reserve the cinnamon) and pour into a clean saucepan. Boil until syrupy. Leave until cold, then pour over the plums. Add the remaining rosemary and reserved cinnamon. Cover and refrigerate.

Serve with yogurt, or sweetened yogurt mixed with double cream.