Rigatoni Pasta with Goats Cheese and Spinach Marinara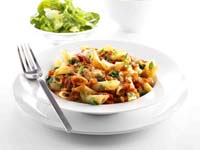 Wineport Lodge is well known to viewers of RTE's 'The Restaurant', as it has been the location for the show during the last few series of the programme. Beautifully located on the eastern shore of Lough Ree, near Athlone, Co. Westmeath, it is a gorgeous place for a real restaurant at other times and chef Cathal Moran makes sure that guests remember the dining experience as much as the view.

This tasty vegetarian dish is a home cooking suggestion from Wineport.

Serves 4

350g / 12oz rigatoni pasta or use penne or fusilli
1 tablespoon olive oil
1 onion, finely chopped
2 garlic cloves, crushed
1 teaspoon chopped fresh thyme
2 bay leaves
1 teaspoon balsamic vinegar
1 teaspoon sugar
400g / 14oz can chopped tomatoes
100g / 4oz baby spinach leaves
1 tablespoon basil pesto (homemade or shop-bought)
100g / 4oz soft goats' cheese, cut into cubes (or use Boilie goats' cheese from a jar)
2 tablespoons toasted pine nuts
Handful fresh basil leaves, roughly torn
A little salt and freshly ground black pepper

To serve: Tossed green salad

1. Place the pasta in a large pan of boiling water and cook for 10-12 minutes until 'al dente', ie tender but still with a little bite, or according to packet instructions.

2. Meanwhile, place the olive oil in a sauté pan and cook the onion for 2-3 minutes until softened. Add the garlic, thyme and bay leaves and continue to cook over a low heat for another 5 minutes, stirring occasionally. Add the balsamic vinegar and sugar and toss until all the ingredients are evenly coated then sauté until the liquid has completely reduced and formed a nice glaze.

3. Add the tomatoes to the onion and balsamic mixture and bring to a simmer, then stir in the spinach until just wilted. Stir in the pesto and season with a little salt and pepper. Gently fold in the goats' cheese and remove from the heat.

4. Drain the cooked pasta and quickly refresh under cold running water, then fold into the tomato sauce and divide among serving bowls. Scatter over the pine nuts and basil to serve.

5. Serve with tossed green salad.