Roasted Red Pepper and Goats Cheese Salad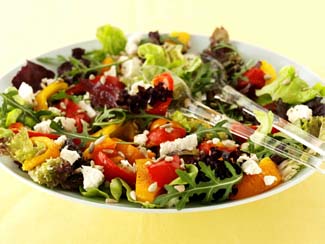 This colourful salad can be on the table in a flash if the peppers are prepared ahead – they are also edible raw, of course, but the flavour is harsh and they tend to be indigestible so it is well worth taking a little trouble to get a tender texture and sweet flavour.

Mixing off extra virgin olive oil with sunflower oil makes for a lighter flavoured dressing, if preferred; salt may not be needed as the cheese has a salty flavour.

Serves 4

1 each red, yellow and orange peppers
4 tbsp sunflower seeds
1/110g St Tola Feta Style goats cheese, or similar, crumbled
4 handfuls of mixed salad leaves, washed and dried

Dressing:

2 tbsp extra virgin olive oil, or mixed olive oil and sunflower oil
1 tbsp cider vinegar
1 tsp clear honey
Freshly ground black pepper

Preheat the oven to 220C/Fan 190C/Gas Mark 7. Place the whole peppers on a baking tray and roast for about 20 minutes, or until soft and charred all over.

Transfer to a plastic bag and leave to cool for 10 minutes. When cool enough to handle, peel away the charred skins and discard, along with the stalks and seeds.

Slice the flesh thinly. Mix all the dressing ingredients together in a small bowl. Put the leaves into a large salad bowl, add the peppers, sunflower seeds and goats cheese.

Drizzle over the dressing, add a few grinds of the peppermill and serve with some fresh crusty bread to accompany.