Seared Scallops with Black Pudding and Crispy Bacon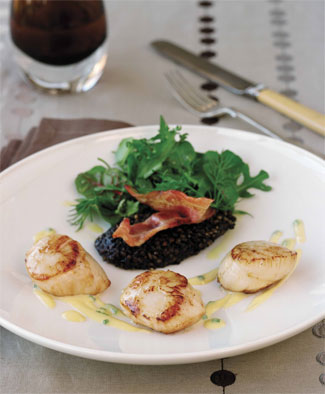 Grainy Clonakilty black pudding from West Cork has become a favourite accompaniment for scallops in recent years, and is delicious served with bacon and classic beurre blanc sauce.

4 rindless streaky bacon rashers
4 slices Clonakilty black pudding
12 large scallops
2 tbsp sunflower oil
1/2 lemon, pips removed
25g/1oz mixed baby leaf and herb salad
2 tsp extra-virgin olive oil
salt and freshly ground black pepper

To Serve

warm beurre blanc sauce (see below)

SERVES 4

Preheat the grill and arrange the bacon rashers and black pudding on the grill rack. Cook for 2-3 minutes, turning once until the rashers are crispy and the black pudding is cooked through.

Meanwhile, pat the scallops dry with some kitchen paper. Heat a large frying pan until it is quite hot. Add the sunflower oil, then add the scallops and sear over a high heat for 1 minute on each side until richly browned and crispy. Do this in batches if your frying pan is not very large. Transfer them to a plate, then add a squeeze of lemon juice and season to taste.

Place the baby salad leaf and herb salad in a bowl and season to taste. Drizzle over the extra-virgin olive oil, add a squeeze of lemon juice and gently toss the leaves to coat.

Arrange a mound of the dressed salad towards the back of each serving plate. Arrange the scallops around the dressed salad and pour a thin stream of the beurre blanc around the scallops. Place a piece of black pudding in the middle of each plate and top each one with a crispy rasher broken in two to serve.

Beurre Blanc

Take care when making this sauce: if allowed to become too hot or too cold the sauce will split. To find the perfect temperature, it's best to test with your finger - it should feel warm, not hot.

In a small heavy pan, boil 45ml/3 tbsp each of white wine vinegar and dry white wine with 2 finely chopped shallots.

Add 1 tbsp double cream/crème fraîche if liked, and re-boil to a glaze.

Gradually whisk in 225g/8oz very cold butter, cubed, to make a creamy sauce.

Finally, bring just to a boil over high heat, whisking continuously.

Strain if liked, season to taste and serve.