Smoked Eel and Pancetta Salad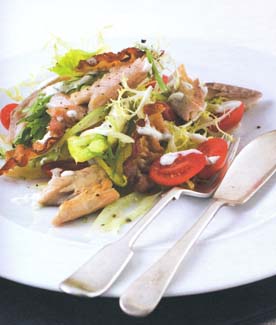 from The Yellow Door, Our Story, Our Recipes by Simon Dougan Blackstaff Press £20

Eel fishing has been traditional to Lough Neagh for many generations and it continues, although on a smaller scale than formerly. Having been banned in the Republic, at least temporarily, it is now a controversial issue, making this rare product even more special (Joe Barry's article in the Irish Independent/Rural Living, 2/3/10, may be of interest).

But alternatives can be used for this dish, in which the punchy dressing is a good foil for the smoked eel. In his introduction to this recipe, Simon Dougan concedes, "... obtaining eels may be a little problematic. If you can find it, smoked eel is well worth the trouble, or freshly smoked mackerel or herrings make a very good alternative."

Serves 4

100g pancetta or streaky bacon, thinly sliced
3009 smoked Lough Neagh eel, skinned, filleted and cut into 3cm pieces
1/2 bulb of fennel, very thinly sliced
3 good handfuls of mixed baby leaf sharp salad leaves, such as frisée or chicory
1 tbsp olive oil
squeeze of lemon juice
20 cherry vine tomatoes, halved
Crème fraîche dressing:
2 tbsp crème fraîche
juice of 1 lemon
1 tsp finely grated fresh horseradish
2 tsp chopped dill
salt and freshly ground black pepper


Preheat the grill on high.

Lay the pancetta or bacon in a grill pan or tray and cook under the grill until crisp.

Turn off the grill and add the eel to the pan to warm slightly. Leave under the grill until the salad is ready.

For the crème fraîche dressing, mix the crème fraîche with the lemon juice, horseradish, dill and seasoning, and set aside.

Place the fennel and salad leaves in a bowl.

Dress lightly with the olive oil, a squeeze of lemon juice and seasoning.

Divide the dressed salad among four plates. Add the pancetta, eel and cherry tomatoes. Drizzle a little of the crème fraîche dressing over the top and serve immediately.