Smoked Salmon on Potato Cakes with Soured Cream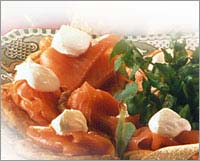 It's hard to beat the classic way of serving smoked salmon – with good brown soda bread, a grinding of black pepper and a squeeze of lemon – but, when a change is called for, this makes a very good, easy to prepare starter. The potato cakes can be made ahead and reheated - and they could also be frozen until needed, if required, then defrost and reheat as below.

Serves 6

12 slices smoked salmon
Potato Cakes
450g /1 lb cooked, mashed potatoes
75g /3oz flour
2 eggs, beaten
2 tbsp finely chopped scallions
Salt, pepper and nutmeg
50g / 2oz butter, melted
Soured Cream Dressing
125ml / 5 fl oz soured cream
Salt and black pepper
Chives for garnish

To Prepare:

Mix the potato, flour, egg, scallions, salt, pepper, nutmeg and half the butter. Mix well together and shape into 12 small potato cakes.

To cook:

Heat the remaining butter in a non-stick pan, then cook the potato cakes until nicely browned on each side. The cakes can be served immediately or kept overnight in the fridge. 15 minutes before serving reheat in a hot oven.

To Serve:

Mix the soured cream, seasoning and scallions together. Place the smoked salmon on each potato cake and top with the soured cream, garnish with chives.