Sole with Lemon & Hazelnut Sauce and Purple Sprouting Broccoli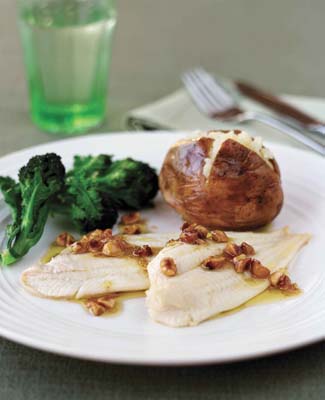 This recipe is the classic pairing of sole and Bénédictine liqueur, which is a brandy or cognac based herbal beverage produced in France. You can other flat fish fillets - plaice, brill or black sole - and sprouting broccoli is an ideal accompaniment in all cases.

It is a treat of a dish, from the wonderful book, From Tide To Table, that we published in partnership with BIM - and which won both a Gourmand World Cookbook Award and the Food Book of the Year at the 2009 Listowel Food Fair.

50g/2oz hazelnuts
75g/3oz butter
8 medium lemon sole fillets
2 tbsp Bénédictine liqueur
2 tbsp fresh lemon juice
2 tbsp chopped fresh dill
salt and freshly ground black pepper

To Serve

buttered long stemmed broccoli (see below)
baked potatoes

SERVES 4

Heat a large heavy-based frying pan. Add the hazelnuts and roast for about 5 minutes until nicely golden, stirring regularly to ensure they cook evenly. Remove from the pan and leave to cool completely, then roughly chop.

Preheat the grill to high. Melt the butter in a pan. Brush the fillets with a little of the melted butter, then season to taste. Cook under the grill for 4-6 minutes or until cooked through.

Meanwhile, add the liqueur, lemon juice and dill to the rest of the melted butter and heat gently over a low heat. Season to taste and stir in the hazelnuts.

Arrange the cooked lemon sole fillets on warmed plates with the buttered long stemmed broccoli and a baked potato. Spoon the lemon and hazelnut sauce over the lemon sole to serve.