Spiced pumpkin & apple pie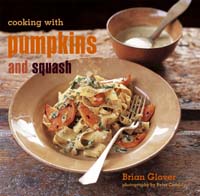 Once your pumpkin is hollowed out and lit up to spook the neighbourhood, you'll have plenty of pumpkin flesh leftover – so why not try this recipe from Brian Glover's great little book, Cooking with Pumpkins and Squash (Ryland Peters & Small, hardback, £9.99 in UK), with lovely photography by Peter Cassidy.

"This is not, I grant you, the usual pumpkin pie," he says, "But much as I love the traditional version, I wanted to try something that had a lighter, slightly sharper flavour and adding a sour cooking apple did the trick."

Perfect for a crowd at Hallowe'en.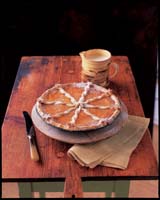 Serves 8–10

For the pastry:
200 g plain flour
100 g unsalted butter, chilled
40 g icing sugar
1 large egg yolk
1 teaspoon grated orange zest

For the filling:

450 g prepared pumpkin, cut into chunks
80 g lightly salted butter
100 g light brown or white sugar
2 tablespoons golden syrup or honey
3 medium eggs, beaten
½ teaspoon each ground cinnamon, ground ginger and freshly grated nutmeg
finely grated zest and juice of 1 unwaxed lemon
1 large cooking apple, peeled, cored and coarsely grated
icing sugar, to dust
double cream, chilled, to serve

A deep, 22–23-cm diameter, loose-bottomed metal tart tin

Put the flour, butter and icing sugar in a food processor with a pinch of salt and whizz until the mixture resembles breadcrumbs. Add the egg yolk, orange zest and 2 tablespoons iced water and whizz again until the dough forms a ball. Turn onto a work surface and form into a smooth ball, wrap in foil and chill in the fridge for 1 hour.

Preheat the oven to 190ºC (375ºF) Gas 5. Roll out the pastry to line the tart tin. Support the sides with foil, prick the base, then bake blind in the preheated oven for 10 minutes. Remove the foil and bake again until just light brown. Remove from the oven and reduce the heat to 180ºC (350ºF) Gas 4.

Meanwhile, steam the pumpkin until tender. Purée it, then let it drip in a non-reactive sieve for 30 minutes or longer. You should have about 300 ml purée. Melt the butter, sugar and syrup together, then beat into the pumpkin purée with the eggs, spices, lemon zest and juice and apple. Pour the filling into the part-baked pastry case.

Roll out any pastry trimmings to make a decorative top. Put the pie on a baking tray and bake in the preheated oven for about 40–50 minutes until the filling is firm and cooked through (protect the pastry edges with foil if they seem to be cooking too much). Dust with icing sugar and serve warm, rather than hot, with chilled double cream.