Spring Flavours - Braised Shank of Wicklow Lamb with Crushed Rosemary potatoes - Pear & Blue Cheese Salad - Scallops
This is a strange time of year in the kitchen, as we hover between a longing for lighter, more colourful food when the weather is fine - yet still feel the need for comfort food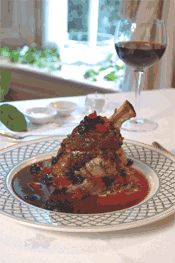 on chilly days. A good April or May day can seem far more summery that it really is and, after such a cold spring, the season is not very far advanced at this stage and we're heading into what used to be called 'the hungry gap', when the winter and early spring crops have finished but there is still a while to wait for the new season produce.

So perhaps our main recipe today offers the best of both worlds by combining a traditionally comforting slow-cooked meat with a more summery accompaniment than the usual 'old potato' mash. Be wary of food that has come half way around the world to its shelf in your local shop; it may look tempting, but there's less need to look too far afield for new spring crops these days - our southern European neighbours are well ahead of the game at this stage, and a lot of Irish produce is helped along in various ways, including specialist vegetables grown in tunnels and glass houses, so there is plenty of choice from nearer home.

Most of us would be only too delighted to have a dish like this put in front of us, especially if it entailed taking a relaxing break at Rathsallagh House where it is especially popular with guests, who love the combination of locally reared Wicklow lamb (supplied by Doyle's butchers in Dunlavin) and sunny Mediterranean influences. The recipe is from my collection in Irish Country House Cooking (Epicure Press, EUR25); with gastro-tourism now the coming thing, this could be a good place to look if you like to combine short breaks with foodie treats, as it combines Irish food and travel ideas. Serves 4:

4 lamb shanks, medium-sized
1 onion, roughly chopped
1 carrot, roughly chopped
1 leek, roughly chopped
1 bay leaf
1/2 bottle red wine
1.4 pints/500ml beef or chicken stock
salt and freshly ground pepper
Potatoes
4 x 8 floz/225ml cups small new potatoes, boiled
1 onion, finely chopped
1 scallion, finely chopped
1 tsp rosemary, finely chopped
1 tablespoon butter
1 tablespoon olive oil
16 sundried tomatoes
16 kalamata olives

Preheat a moderate oven, 325°F/170°C/gas mark 3.

To cook the lamb:
Season the lamb shanks with salt and freshly ground pepper.
Heat a flameproof casserole, add a tablespoon of olive oil and sear the shanks in it until golden brown on all sides. Remove the meat from the pan and set aside. In the same pan, sauté the onion, carrot and leek, with the bay leaf, until wilted. Stir in the wine and stock.

Return the shanks to the casserole, cover and cook in the oven for one hour, then turn them over carefully and cook for a further 30 minutes, or until the meat is tender and falling off the bone.

Place the shanks on a baking tray while you make the sauce. Strain the cooking liquid into a saucepan and simmer, uncovered, until reduced by about half. Check the flavour as you do this as it may become too salty if reduced too much. [The shanks and their sauce could be allowed to cool at this stage; cover, then refrigerate until required.]

Potatoes: Melt the butter and olive oil in large frying pan. Sauté the potatoes, onion, scallion and rosemary over a medium heat until the potatoes are heated through and crispy. Add the tomatoes and olives, and heat through. Season to taste with salt and freshly ground pepper.

To assemble the dish: Re-heat the lamb shanks in the oven (preheated to 325°F/170°C/gas mark 3) for about 15 minutes, or until hot and sizzling. Reheat the sauce. Divide the hot potatoes between four heated plates, place the shanks against them, pour the sauce over shank and serve at once.

SHORT RECIPE: Pear & Blue Cheese Salad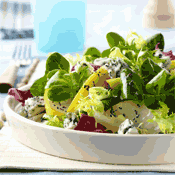 This is one of my favourite salads as it is very quick to make and can be served on its own or at the beginning or end of a meal; I love the balanced combination of flavours and textures - the sweet juicy pear, slightly salty blue cheese, crisp leaves and the crunch of nuts or seeds are seriously more-ish. Choose from the growing number of blue Irish farmhouse cheeses, but choose firm type or a young cheese as you don't want it too ripe and runny. Serves 2:

1 small crisp-leafed lettuce, eg Little Gem, washed & dried, or a
7 oz/200g bag of crispy salad leaves
2 ripe but firm pears, quartered, cored and sliced
75g/ 3oz blue cheese - eg Bellingham Blue or Cashel Blue, crumbled or cubed
For the dressing:
zest and juice of 1/2 lemon
1 tbsp poppy seeds, or roughly broken walnuts
1 tbsp olive oil, or vegetable oil
pinch of caster sugar
salt and freshly ground black pepper.

Divide the leaves between two serving plates, then top with the sliced pear. Scatter over the blue cheese. Whisk all the dressing ingredients together then season to taste. Drizzle the dressing over the salad and serve, with some crusty bread if you like.

INGREDIENT OF THE WEEK: SCALLOPS

What are they? Scallops are bi-valve molluscs, easily recognisable by their pretty radially ribbed shells which (although this is out of fashion at the moment) can used for presentation; the shells are also useful for cooking and serving other small fish dishes, and there was a time when they were widely used as ash trays...They have a subtle, sweetish flavour and very dense pearly-white flesh.

Where do they come from? Scallops are fished around the Irish coast and in winter and spring. As itemised on some top restaurant menus, the most desirable (and most expensive) are 'hand dived', ie they are picked by hand by individual scuba divers, which is very ecologically correct as it is so selective and does not cause damage to the underwater environment. Only the best are selected and it is also slow work, hence the higher price.

Where can I get them? They are easily available available from fishmongers, both in and out of the shell. 'Queenies' are the small scallops most widely available (often sold shelled and frozen), and the prime king scallops have a beautiful orange-red 'coral' (roe), which is at its brightest and best in winter and early spring, and should be left intact; it is widely regarded as a great delicacy although, sadly, modern Irish chefs do not always see it that way and often discard the coral entirely.

What can I do with them? If buying scallops in the shell, choose those that are tightly closed and feel heavy for their size. To open, warm them a little until the shells open naturally, then remove the black part and gristly fibre. Scallops are widely used in both first course and main course dishes but, because of their dense flesh, are best suited to starters and light salad dishes. They have an affinity with a number of ingredients, including bacon, mushrooms and Jerusalem artichokes, and are best cooked very briefly (whole or sliced) in a hot pan with a little butter or oil; do not overcook as they quickly become rubbery and lose their fresh flavour and beautiful translucent appearance. They can also be sliced very thinly and eaten raw (in a mushroom salad, perhaps). Traditional dishes like Coquille Saint Jacques (with mashed potato and cheese sauce) are currently out of favour, but they do have the advantage of offering a more balanced combination which offsets the natural heaviness of a large quantity of scallops, so perhaps should not be dismissed out of hand.