Super Veg - Recipe for Asparagus with Poached Duck Egg - Recipe for Lamb Cutlets with New Potatoes - Mint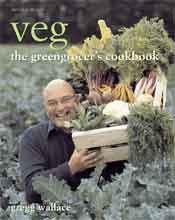 Our family has always been big into vegetables – whenever we all go out to eat together, the most usual complaint is either that the restaurant is mean and/or unimaginative with the accompanying vegetables (something I've never been able to understand as they're the least expensive ingredients so you'd think chefs would be pleased to make the most of them) or, worse still, that side dishes are charged as an extra, which drives my sons demented.

I enjoy growing vegetables too, although we don't have a very big garden and I don't have as much time as I'd like – it's amazing how much you can grow in a fairly small space and just an hour or two a week, especially if you get ahead of the game by being ready to sow or plant out as soon as growing conditions are right. And I'm always delighted to see new books that encourage us to make more of vegetables – one that has just landed on my desk is Gregg Wallace's "Veg- the greengrocer's cookbook" (Mitchell Beazeley. stg£20.00). Greengrocer Gregg, who is well known as co-presenter of Masterchef Goes Large on BBC2, is mad about vegetables and the book takes an A-Z look at vegetables which are grown in Britain (and therefore, for the most part, in Ireland too).

Stressing that the most important thing about vegetables is flavour, Gregg points out that the time they take to get from the ground to your mouth is the crucial factor – so forget about the 'convenience' of vegetables that have travelled halfway round the world to your local shop and concentrate on seasonal produce grown as close to home as possible

Asparagus with Poached Duck Egg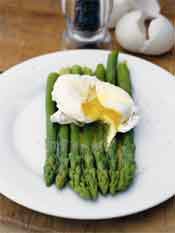 This elegant starter or light snack is a typical recipe from 'Veg' and a nice one to try before the native asparagus season finishes over the next week or two, although other European supplies will continue for some time. You can use hen eggs instead of duck eggs if preferred - either way, dipping the spears of asparagus into the runny egg yolk is delicious. Serves 4:

1 tbsp white wine vinegar
4 duck eggs
28 spears of medium asparagus
black pepper

Bring 2 pans of salted water to the boil and add the vinegar to
one of them.
Crack the eggs into individual ramekins but don't allow the
yolks to break.
Boil the asparagus in the plain water for 3–5 minutes. Turn the other pan down to a bare simmer and gently slide the eggs into the water. Let them cook for 4 minutes.
Drain the asparagus well and divide between 4 warmed serving plates.
Lift the eggs out with a slotted spoon and lay on top of the asparagus.
Serve with a good grinding of black pepper, and some crusty bread on the side.

SHORT ITEM: Lamb Cutlets with New Potatoes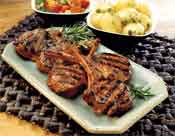 Easy to cook on the barbecue or under the grill, lamb cutlets make the ultimate convenience meal - you can have dinner on the table in less time than it takes to collect from the local takeaway. Cooking the potatoes with mint really brings out the flavour. Serves: 4

12-16 small new Irish potatoes
2 or 3 sprigs fresh mint
8 Irish lamb cutlets, well trimmed
1 tablesp. balsamic vinegar
1 tablesp. olive oil
Salt and black pepper

Scrub the potatoes well and put into a saucepan with just enough cold water to cover; add a little salt and a couple of sprigs of mint, then bring to the boil. Reduce to a simmer and leave to cook while preparing the lamb cutlets.
Preheat a barbecue or grill. Mix the vinegar and oil together in a bowl. Dip the cutlets into the mixture, season with salt and a grinding of pepper and cook on the pre-heated barbecue or under the grill for 3-4 minutes on each side.
Serve with the new potatoes topped with a light sprinkling o crunchy sea salt and a spoonful of your favourite salsa; or relish or try mixing together some chopped cherry tomatoes, cucumber and a little freshly chopped mint, a squeeze of lime (or lemon) juice, olive oil and seasoning.

Ingredient of the Week: MINT

What Is It? Mint is a hardy aromatic perennial herb grown primarily for flavouring and culinary use.

Where Does it Come From? Varieties most often seen here are native to North and West Asia, North Africa and Europe, including Britain and Ireland.

Where Can I Get It? The most common varieties – spearmint (mentha spicata) and apple mint / round leaved mint (M. rotundalfolia) are widely available in greengroccers, the fruit and vegetable departments of supermarkets, and farmers markets – where you may also find many less usual varieties, including some with ornamental foliage. However it is so easy to grow in a small corner of the garden, or in a pot, that there is no need to depend on buying supplies; if you can only grow one variety the mid green, furry-leaved variety 'Bowles' is the best general purpose mint for the kitchen and has excellent flavour.

What Can I Do With It? Mint is widely used for its flavour and scent in products as diverse as chewing gum, pot pourri, mint tea and liqueurs (Creme de Menthe, Chartreuse). Everyday uses in the kitchen include the classic accompaniments to lamb, fresh mint sauce and mint jelly, flavouring the cooking liquor when boiling new potatoes, flavouring accompnaiments such as yogurt dips and herb butter; fresh sprigs are pretty and refreshing when added to fruit drinks, fruit salads and vegetables – and, like borage flowers, tiny leaves can be frozen in ice cubes.