THINK ORGANIC - Baked Potatoes & Pork - Green Frittata with Spinach Salad - Organic Foods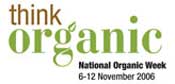 This Monday (Nov 06) marks the beginning of National Organic Week - well officially, anyway; unofficially the first event seems to be today, when a new range of organic beef, Omega, is being launched at the beautifully converted Red Stables at St Anne's Park, Raheny, Dublin; food markets are now held there on Saturdays and this would be an ideal opportunity to have a look around.

The week's events are funded by the Department of Agriculture and Food and co-ordinated by Bord Bia, and the many activities taking place nationwide during the week include Organic Farm Walks and Open Days, and special emphasis on organic products at Farmers' Markets around the country..

The purpose of the week is to raise consumer awareness of what organic food is, and where to buy it; according to a recent consumer survey, most people (over 70%) agree with the key message that organic food is a naturally produced and environmentally friendly alternative - but only 40% agree that is easy to find locally produced organic food.

Organic producers and suppliers deserve our support - this country is ideal for developing organic production, a healthy and potentially profitable alternative to the larger scale orthodox farming that is currently in decline; consumer interest in organic food is growing and, unfortunately, a high proportion of the organic food sold in this country is imported, so the potential is huge.

Not only is organic food better for the environment and likely to be healthier, but organic producers often grow or rear foods that are selected mainly for flavour and texture rather than high yields, so anyone who cares about the taste of food should consider the extra cost a worthwhile investment - so get out and about this week, and meet some of the people who are making it happen!

What's On:
- an All Ireland Organic Food Conference in Carrick-on-Shannon (Landmark Hotel - Conference, 7 November 06, 'Meet the Producers' day 8 November)
- guided tours of the National Ecology Centre, Sonairte, at Laytown Co Meath (11 November 06, 10.30-5pm)
- an open day at Inagh Organic Goat Farm, Co Clare, where the award-winning St Tola cheeses is made (9 November 06 11-3pm)
- visits to Irish Seedsaver Association orchards, nurseries and gardens at Scarriff, Co Clare (all week, 5-10 November06, 12-5pm).

These are just a few examples of the many things to do and see during the week, and details of all events will be listed on the Department of Agriculture & Food's website (www.agriculture.gov.ie/organics) along with an extensive list of suppliers of organic food - and events will also be listed on a special organic section on the Bord Bia website www.bordbia.ie


Baked Potatoes & Pork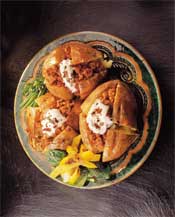 You can make these wholesome stuffed potatoes with 'ordinary' produce, of course, but why not try using some organic ones and see how tasty it is. The ingredients marked Organic should be available as Irish grown - if it can be produced here, there's no point in buying organic if it has jetted half way round the world to land on your plate. Serves 4
450g (1 lb) lean Organic pork mince
1 Organic onion, finely chopped
2-3 cloves Organic garlic, chopped
1 chilli, chopped (plus seeds if you like it hot!)
1 dessertsp. fresh ginger, grated
1 Organic red pepper, chopped
Juice of 1 lime (optional)
1 can of oganic chopped tomatoes (will have to be imported)
Salt and pepper.
4 large hot baked Organic potatoes
Suggested Topping: Organic Celery and Pepper Salsa: Crispy bacon, chopped; Soured cream
Heat a non-stick pan, brown the pork well. Stir in the onion, garlic, chilli, ginger, red pepper, lime juice, and the can of tomatoes and season well. Cook for 8-10 minutes.
To Serve: Split the potatoes in four to open. Allow each person to fill the potatoes at the table and pass around the topping(s). Serve with roasted peppers tossed in oil, lemon juice and balsamic vinegar.
SHORT RECIPE: Green Frittata with Spinach Salad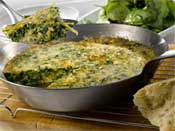 How appropriate to make a green dish for National Organic Week - perfect for any time of day, this pretty meal is quick and easy to prepare.
2 tablesps olive oil
1 bunch of Organic scallions, chopped
450g/ 1 lb approx Organic baby spinach leaves, washed and drained
5-6 eggs
Handful of grated Irish farmhouse cheese, a hard variety
Knob of butter; Seasoning
2 to 3 teasps. Balsamic vinegar
Heat the grill. Heat a tablespoon of the oil in a large non stick pan, add the scallions and half the spinach. Stir-fry for 2-3mins until they soften. Tip into a colander and press down to squeeze out the excess moisture. Beat the eggs and cheese and then add in the spinach mixture and stir well.
Reheat the pan adding the knob of butter, pour in the egg mixture and cook, stirring gently until well set on the base. Finishing cooking under the grill.
Slide onto a large plate for serving or cut into wedges and serve from the pan. Mix remaining spinach with the olive oil and balsamic vinegar, season lightly and serve with the frittata and some crusty bread.
INGREDIENTS OF THE WEEK: Organic Foods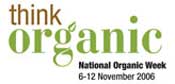 What Are Organic Foods?
Organic foods have been produced in a sustainable, environmentally friendly way without damaging the environment: organic farming avoids the use of artificial chemicals and pesticides.
What makes Organic Foods Environmentally Friendly?
Organic farming is based on developing and maintaining a healthy and fertile soil, and rotating crops to prevent a build up of pests and diseases. It avoids environmental pollution by recycling garden and farm, and encourages and protects wildlife, by creating suitable habitats and recognises that we have a duty to leave the world around us in a healthy state for our children.
How Are Animals Treated on Organic Farms?
They must be allowed to express their natural patterns of behaviour (not too many to be kept in a given area); they must have freedom to move around and access to the outdoors. They are fed on organic food; sheep and cattle raised organically are fed mainly on grass. They must have comfortable bedding and spacious housing - and medicines are only given when necessary, not as a routine part of animal husbandry.
How Do I Know Produce is Organic?
Organic produce is marked with the symbol of the organic certification body with which the producer is registered, or details of certification may be given on packaging.
Why is Organic Food More Expensive?
Organic systems are more labour intensive and yields are generally lower; also, retailers often put an increased mark up organic produce.
Why Should I Buy Organic Produce?
In addition to all the reasons given above, it's likely to be healthier - and to taste better.
Where Can I Get It?
Certified Organic produce is available from farmers' markets, specialist shops and supermarkets. Absolutely Organic (+353 (0)1 460 0467) deliver weekly or fortnightly direct to homes in the greater Dublin area. For more information on where to buy, see
www.agriculture.gov.ie
and
the Organic & Green Guide to Ireland 2005-2006 (
www.sustainable.ie
).