Turbot in Tarragon and Soured Cream Sauce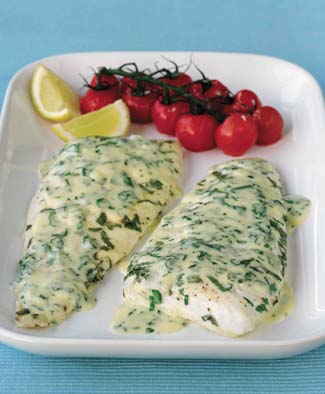 Try using Achill Island Turbot for this easy dish if you can get it. Whatever the source choose larger fish if possible, as you would with any flat fish, so that you get nice chunky fillets.

As with other flat fish, turbot will yield four fillets, of which the upper two will be thicker. If turbot is unavailable, other flat fish such as John Dory or brill would be good alternatives; although not as sweetly flavoured as turbot, brill is also a fine fish and can be good value too.

It is quite difficult to distinguish a large brill from turbot but running your finger over the skin will soon tell you which is which as turbot have little lumps on their skin.

Serves 4

butter, for greasing
1.5kg / 3lb large turbot, filleted
175ml / 6fl oz cream
1 tsp chopped fresh tarragon
2 tbsp chopped fresh flat-leaf parsley
2 tbsp fresh lemon juice
1 tsp sugar sea salt and freshly ground black pepper

To Serve:

roasted vine cherry tomatoes

Preheat the oven to 200ºC/400ºF/Gas 6.

Butter a dish large enough to fit the fish fillets. Place the cream in a bowl and stir in the tarragon, parsley, lemon juice and sugar. Season to taste.

Arrange the fillets in the buttered dish and spoon over the cream mixture to cover completely. Cover with foil, place in the oven and cook for 20-25 minutes or until just cooked through and tender.

Transfer the fillets onto warmed plates with the roasted vine cherry tomatoes and garnish with lemon wedges to serve.