Valentines Muffins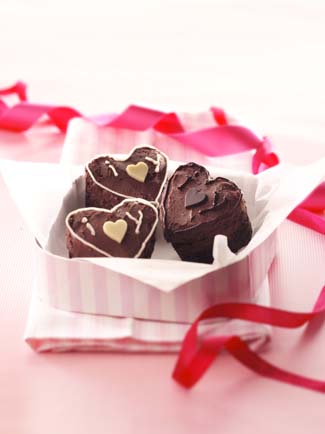 The following recipe is from baking specialists Dr. Oetker – an international operation with its headquarters in Germany, this fourth generation family business credits its success to their belief that "quality is the best recipe".

Makes 16

250g butter
125g continental dark chocolate
3 large eggs
300g caster sugar
100g wheat flour
50g cocoa
1 tsp baking powder
75g continental dark chocolate, broken into pieces

1. Preheat the oven at 180°C.

2. Melt butter and the 125g continental dark chocolate in a saucepan over low heat.

3. Whisk eggs and sugar until foamy and fluffy.

4. Fold in the flour, cocoa and baking powder.

5. When fully combined, stir in the remaining chopped chocolate.

6. Pour into heart shaped muffin tins.

7. Bake at 180°C for approximately 20 minutes, until baked through.

8. Cool cakes on a wire rack.

9. Decorate with romantic message to your loved one.