Warm Lamb Salad with Yoghurt and Fresh Mint Dressing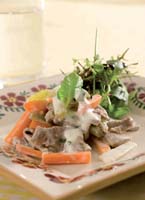 This recipe was contributed to Truly Tasty (Atrium, hardback 332pp, €19.95/£17.95 - a beautiful and truly unique cookery book, in which well known Irish chefs have created recipes specifically for adults living with kidney disease – and all royalties go to the Irish Kidney Association) by Euro-Toques consultant chef Eugene McSweeney (www.dialachef.ie), former proprietor-chef of the renowned (and much missed) Lacken House in Kilkenny.

Dietitian's notes:

If you have a daily allowance of dairy products, please note that there is yoghurt in this recipe, which needs to be taken from your allowance. Check your daily allowances to see if you have enough remaining for this dish. Per portion this dish provides 1 portion of vegetables and 11⁄2 protein exchanges.

Serves 4

200g (7oz) loin of lamb, trimmed and cut into small strips
FOR THE YOGHURT AND MINT DRESSING
11⁄2 level tbsp low-fat mayonnaise
250ml (9floz) water
125g (41⁄2 oz) low-fat natural yoghurt
1 small onion, cut in 2.5cm (1in) wedges
2 tsp fresh lemon juice
1 small carrot, scrubbed and cut into 1⁄2 tsp honey
2.5cm (1in) pieces 4 fresh mint leaves
1 small celery stick, trimmed and
cut into 2.5cm (1in) pieces
1 bay leaf
3 parsley stalks
4 whole peppercorns

FOR THE SALAD

100g (31⁄2 oz) mixed salad leaves, freshly washed
(may include butterhead, boston, bibb, webb, cos, romaine, iceberg, red leaf and rocket. Avoid spinach leaves.)
3 tbsp extra-virgin olive oil
2 tsp balsamic vinegar
A pinch (1⁄4 level tsp) freshly ground black pepper

To prepare the lamb, place the water in a large pot and add the lamb with the onion, carrot, bay leaf, celery, parsley and peppercorns. Simmer for 20 minutes or until the lamb is tender.

Remove from heat and allow to cool slightly. Drain off the cooking liquid, then remove the bay leaf, parsley stalks and peppercorns.

To prepare the yoghurt and mint dressing, put all the ingredients in a small bowl and whisk to combine. Add to the warm lamb and vegetable mixture.

To make the salad, combine the oil, vinegar and pepper in a bowl. Add the salad leaves and toss well to coat them in the dressing.

Serve the warm lamb and vegetables on warm plates with a little salad on the side.