Warm Salad of Gubbeen Cheese and Bacon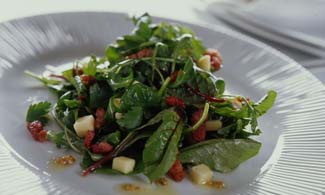 This delicious salad is a favourite of one of Ireland's most highly esteemed chefs, Rory O'Connell (www.rgoconnell.com; +353 (0)86 851 6917), who is known for a pure, simple style that highlights the quality of seasonal and artisan ingredients. He gives intensive one-day classes at his home at Ballycotton in East Cork.

It was selected as one of the recipes published in our new food tourism book, Ireland For Food Lovers (Epicure Press, €20)

Serves 6

15ml/1tbsp olive oil
350g/12oz streaky Gubbeen bacon or other streaky bacon
6 handfuls of mixed green leaves, washed and dried
65g/2oz Gubbeen cheese, or similar cheese, cubed

Dressing:

45ml/3tbsp sunflower oil
45ml/3tbsp olive oil
5m/1tsp of Lakeshore Whole Grain Mustard or other wholegrain mustard
30ml/2 tbsp David Llewellyn's Fruit and Vine Cider Vinegar, or other natural cider vinegar
Salt, freshly ground pepper and sugar to season.

Heat a frying pan and add a little olive oil. Cut the bacon into lardons.

When the oil is smoking, add the lardons of bacon and fry until crisp. While the bacon is cooking, put all the ingredients for the dressing in a bowl and whisk with a fork.

Toss the leaves in the dressing and divide between six hot plates. The leaves should be just glistening with the dressing.

Sprinkle the cubes of cheese around the leaves and finally the bacon straight from the pan.

Serve immediately.