Whiskey cured smoked salmon with Janets Country Fayre Beetroot Blush and citrus mayonnaise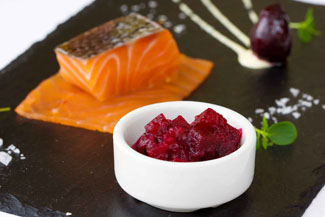 [Recipe courtesy of Derry Clarke, proprietor-chef L'Ecrivain Restaurant, Dublin.]

Serves 4

15g (1/2oz) sea salt
15g (1/2oz) caster sugar
5 white peppercorns, finely crushed
15g (1/2oz) fresh dill, leaves striped off stems
1 tsp whiskey
2 tsp wholegrain mustard
2 x 150g (5oz) organic salmon fillets, trimmed

FOR THE CITRUS MAYONNAISE:

2 egg yolks
1 tbsp Dijon mustard
1 tbsp white wine vinegar
300ml (1/2 pint) olive oil
finely grated rind and juice of 1 lemon

FOR THE ROASTED BABY BEETS:

50g (2oz) rock salt
450g (1lb) baby beetroots, well trimmed
2 fresh thyme sprigs
25g (1oz) butter
1 tbsp aged balsamic vinegar
sea salt and freshly ground white pepper
6 tbsp Janet's Country Fayre beetroot blush, to serve
microcress, to garnish

To prepare the salmon:

Mix the salt, sugar, peppercorns and dill together. In a separate bowl, mix the whiskey and mustard together. Smear the salmon fillets with the mustard paste. Spoon the salt mixture over it, using the mustard paste to help it stick.

Lay one fillet on top of the other to form a sandwich. Wrap in clingfilm, place a weight on top and chill for 2-3 days. Put on a tray as the salmon will exude a salty, sugary syrup.

To make the citrus mayonnaise:

Combine the egg yolks, mustard, vinegar and seasoning in a food processor. Blend for 1 minute before slowly drizzling in the olive oil. Continue to add the oil slowly until the sauce reaches a thick mayonnaise consistency.

Fold in the lemon rind and juice and transfer to a plastic squeezy bottle. This will keep happily in the fridge for 2 days.

To cook the baby beets:

Preheat the oven to 180C (350F), Gas mark 4. Lay a large sheet of foil on a baking sheet and spread the rock salt in the centre. Nestle the beetroot in the rock salt and scatter with the thyme. Scrunch the foil and bring the edges together to enclose the beetroot and seal.

Bake for about 15-20 minutes or until the baby beets are tender. Remove, uncover and leave to cool slightly. Wearing a pair of thin rubber gloves (to avoid staining your hands), peel the beetroot while they are warm, using a thin-bladed knife.

Heat the butter in a sauté pan. When it starts to foam, toss in the beetroot and cook, turning frequently, for a couple of minutes until coated in butter and glossy. Add the balsamic vinegar to deglaze and bubble until reduced and syrupy. Leave to cool to room temperature.

When you are ready to serve: Unwrap the salmon and rinse it gently under cold water. Pat dry with kitchen paper and using a long, straight-edged knife, slice off 8 horizontal slices. Trim down to make neat rectangular shapes and use two to line each serving plate.

Trim down the remaining salmon into 5cm (2in) x 2.5cm (1in) fillets. (Any leftovers would make an excellent salmon tartare.)

Decorate each serving plate with the citrus mayonnaise and gently put a roast baby beetroot on top; the remainder can be served in a separate serving dish. Spoon the beetroot blush into individual small bowls and place to the side. Garnish with the microcress and scatter around a few salt flakes to serve.