Abbey Feta Cheese Quiche with Tomato, Basil and Aubergine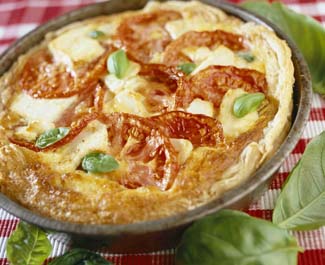 This recipe originally came from Sarah Webb of The Gallic Kitchen in Abbeyleix, Co Laois, and it was one of the recipes given in our recently published regional food tourism guide, Ireland For Food Lovers (Epicure Press, €20).

This summery tart would make a nice lunch or supper dish. The feta cheese suggested is made by Paddy Jack Hyland, nearby at Ballacolla and, unusually for a quiche, it uses puff pastry so the dish is easy to make, and a lighter option than traditional shortcrust. Courgettes might be more easily available than aubergine, and would do equally well.

Serves 4

300g/11oz puff pastry
400g/14 oz beef tomatoes, sliced
15g/ 1/2 oz approx fresh basil
325g/12oz aubergine, sliced & sprinkled with salt
125g/41/2 oz Abbey St Canice feta cheese, or similar
250 ml/9fl oz cream
4 free range eggs
Pinch of salt and freshly ground black pepper

Preheat the oven at 200¡C/400¡F/gas mark 6

Roll out the pastry and use to line a 23 cm/9 in. round quiche tin.

Arrange a layer of sliced tomato in the base of the tin.

Season the tomatoes and sprinkle with basil.

Rinse the salted aubergine slices, drain well and pat dry with kitchen paper.

Cover the tomatoes with a layer of aubergine slices.

Arrange the remaining beef tomato and alternately with pieces of feta cheese in a circle around the edge of the tin.

Place the remaining slices of aubergine in the centre, overlapping in a circle.

Whisk the cream and eggs together, season lightly and pour into the quiche tin.

Place in the preheated oven and cook for 45 minutes.

Serve warm or cold, with relish or chutney and a seasonal salad.