Book Review - Ard Bia Cookbook
Ard Bia Cook Book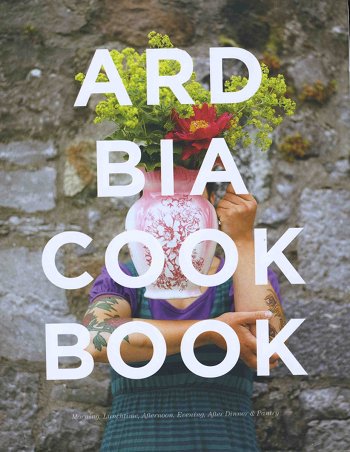 (Atrium, hardback 328pp, €39/£35).

In his foreword to the Ard Bia Cookbook, travel writer Manchán Magan ponders, "If Druid is the mind of Galway, Salthill its lungs and Tigh Neachtain's its kidneys, might Ard Bia be its soul?"

It's a good question. Certainly many people would think of this delightful spot as the city's heart, both for its lovely waterside location in one of the city's oldest, most characterful and historically interesting buildings right beside Spanish Arch – and for the extraordinary cosmopolitan mix of influences and talents that owner Aoibheann Mac Namara has brought to this atmospheric place. Although originally from Co Donegal and with vibrant connections in Europe, including an art gallery in Berlin, Aoibheann is very much an honorary Galwegian and has thrown herself into the life and culture of the city with great style.

But perhaps Ard Bia is more like a room in a house and, if so, it would have to be the cosy and welcoming kitchen of an Irish cottage, with its apparently artless eye-appeal and aromas of wonderfully wholesome food promising comfort and conviviality - food for the body and soul, in equal measure.

Whatever the verdict, Ard Bia is certainly one of Galway's best-loved restaurants and a beautiful book to celebrate its tenth anniversary is very welcome. Publisher Mike Collins of Cork University Press has earned a reputation for outstanding Irish-interest books, notably in the food area, and this is another one with all the hallmarks of quality production.

A handsome book that's as much a pleasure to handle as it is to read, it's clearly special - and the team behind it is awesome, including not only Aoibheann herself and her talented restaurant team, but also the highly regarded food writer Aoife Carrigy and a whole rake of other special contributors from Ireland and abroad.

The formidable line up ranges from photographer James Fennell, (widely known for his poignant 'Vanishing Ireland' books, with historian Turtle Bunbury), several other photographers and artists and a diverse collection of related talents covering design, art direction, food styling and editing as well as hands-on food contributions including recipe creation and cooking, of course, but also less likely examples like wild food foraging.

Yet, impressive as all that may be, the real value of the Ard Bia Cookbook lies in its versatility, practicality and the creativity with which it celebrates the wonderful produce of the Galway region. Accurately flagged as 'A unique family-friendly cookbook, a source of inspiration for modern healthy living, a keepsake for loyal fans of the restaurant, a memento for visitors to Galway, a celebration of the enduring energy of Ard Bia and all involved in it', it's quirky and stimulating – but, like the restaurant itself, never at the cost of the real business of the day: good cooking.

The main chapters capture the mood and foods of Ard Bia at different times of day – Morning, Lunchtime, Afternoon, Evening and After Dinner – but a very substantial amount of space, perhaps a third of the book, is given over to a series of Pantry sections and this, with its attention to basics and 'All the little touches that transform food from good to great', is my favourite part of the book...

Here you will learn – or be reminded of – all the little things that lift apparently simple restaurant dishes into the 'special' category: herbs, spices, seasonings; flavoured butters, sauces; the foraging year; many rewarding ways of preserving fruits and vegetables; important basics that are all too often side stepped by shortcut cooks, including stocks and baking techniques...

Whether it's used as a beginner's manual or a handy reference for the experienced cook, the Pantry is the engine room of the Ard Bia cookbook and the reason why – even in the unlikely situation that the main recipe section should never be used at all – it's sure to become a well-thumbed favourite in any kitchen lucky enough to have it on the bookshelf.

SEASONAL RECIPE SELECTION: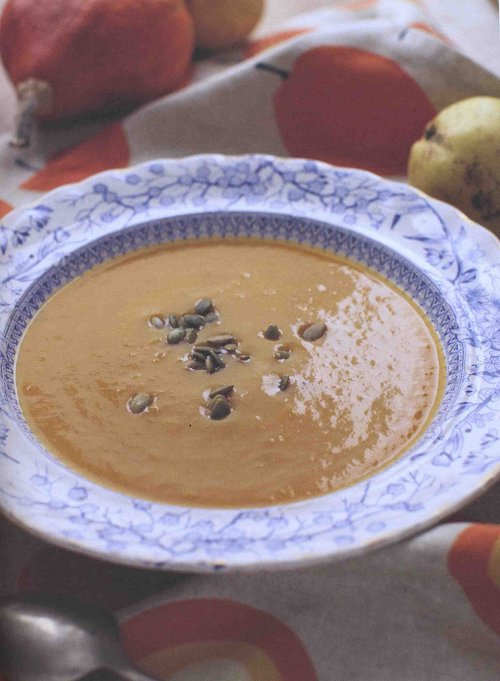 AUTUMNAL SQUASH SOUP

This warming soup is a favourite consolation in Ard Bia when the days are getting shorter, the evenings crisper and summer has finally slipped into autumn. Butternut squash and pumpkin are the most readily available, but farmers' market stalls often have interesting varieties of squash, each with their own unique flavour.

3-4 tbsp olive oil
2 onions, diced
5 garlic cloves, bashed with the
flat of a knife and peeled
2 tsp cumin seeds
1 thumb-sized piece of fresh
ginger, peeled and finely chopped
salt and pepper, to taste
1 carrot, peeled and roughly diced
2 sticks celery, roughly chopped
1 pinch of cayenne pepper (optional)
1.2kg / 2.61bs squash of choice, peeled and de-seeded (butternut squash or pumpkin are the most common)
1 litre / 2 pints vegetable stock

Tastes great with:

1 handful toasted pumpkin seeds
3-4 handfuls fresh coriander (optional)

Serves 4-6

Heat a large heavy-based pot over a medium heat and add the olive oil, diced onion, bashed garlic, cumin seeds, ginger, salt and pepper, carrot and celery along with the cayenne pepper, if using. Sweat over a low to medium heat
until the onion and vegetables soften a little and the cumin seeds are toasted.

When you think you have enough flavour in your pot - the change in colour is a clue but you'll know by the delicious aromas - add your chosen member of the squash family.

Barely cover with stock, cover with a lid and allow to simmer until the squash is cooked, about 20-25 minutes, although it will depend on what type of squash you use, so check by piercing with a knife. Allow to cool a little before blending. Add a little water if the soup needs thinning.

Check the seasoning for taste and serve garnished with toasted pumpkin seeds or fresh coriander.

Tip: Bashing a clove of garlic, instead of finely chopping or crushing it, will coax out sweeter, milder flavours rather than a more fiery heat. Don't worry about leaving them whole, as you'll be blending the soup.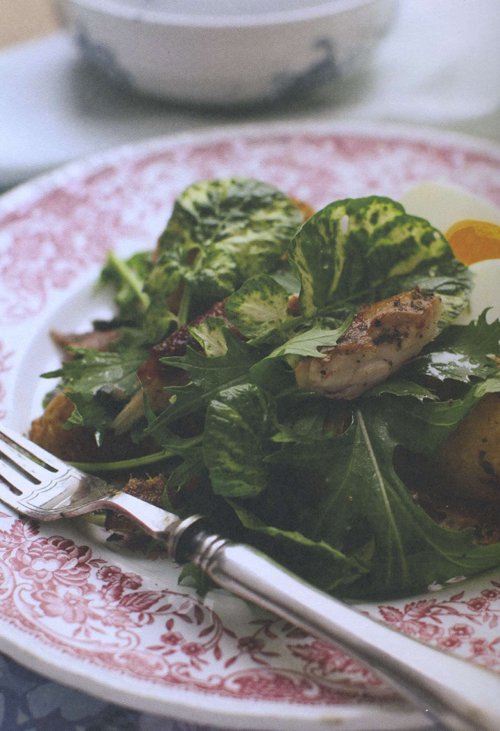 BURREN BRUNCH OF SMOKED TROUT, POTATO AND LANDCRESS

This brunch dish is pure west of Ireland. We use smoked fish from the Burren Smokehouse in Lisdoonvarna, County Clare, and dress it with Steven Gould's exquisite landcress grown in Corrundulla, just outside Galway city. You can try it with smoked mackerel and watercress for more robust flavours.

Serves 4-6

4-6 large eggs
16-20 new potatoes
1 tbsp butter
2-3 tbsp rapeseed oil
2-3 butterflied fillets of smoked trout,
250g / lOoz mixed peppery leaves (landcress and mizuna are great)
2 handfuls each parsley and dill, chopped

Tastes great with: lemon aioli (see below)

LEMON AIOLI

1 egg yolk
1 whole egg
1 tbsp Dijon mustard
1 tbsp wholegrain mustard
2 garlic cloves, crushed
1 tbsp white wine vinegar
250ml / 8.5fl oz rapeseed oil
250ml / 8.5fl oz sunflower oil
1/2 lemon, juice only

First make the lemon aioli: Beat eggs, mustards, vinegar and garlic together with a tablespoon of water in a food processor (or in a bowl with a whisk).

With the processor still running gradually drizzle in the oils. It is important to take your time at this stage so that the mayonnaise doesn't split. Once the mix begins to thicken, the oil can be added a little faster.

Next boil the eggs: Judging the timing for the perfect soft-boiled egg will depend on the size of your eggs. Bring a pot of water to the boil, add the eggs and boil for about six minutes for large eggs. Then plunge into cold water to arrest the cooking, peel and halve. The yolk should be just set but still moist. If you prefer it runny, cook for a minute less; likewise if your eggs are smaller.

Cover the new potatoes in plenty of cold, salted water and bring to the boil. Reduce to a simmer and cook gently until a knife slides easily through. Allow to cool, and quarter.

In a medium frying pan melt a large knob of butter over a medium heat and add a splash of oil. When good and hot, add the potatoes and cook for a few minutes to gently brown, then flake the smoked trout into the pan and mix
well. Season lightly, as the trout can be salty.

Just before removing from the heat, throw in the landcress and herbs and toss it all together to wilt the leaves a little. Serve with the boiled eggs, halved, and a good dollop of aioli.

Tip: Eggs have an air pocket between the outer shell and inner membrane which expands as the eggs age (which is why stale eggs float in water). Pricking an egg's base before boiling allows hot air to be released without the shell cracking, and will make the egg easier to peel.

Finish by adding a little lemon juice at a time, checking until the desired taste is achieved. Season and loosen the aioli with a little warm water if the consistency is too thick.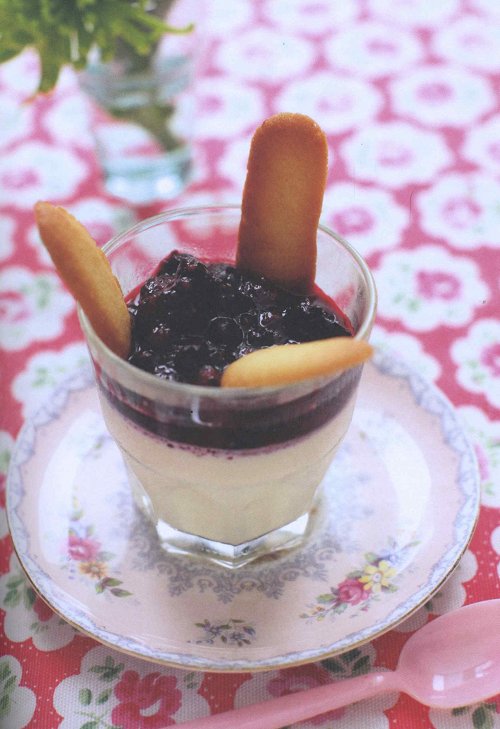 LEMON POSSET

The posset is making a bit of a comeback. Now a simple set creamy dessert, it gets its name from a nineteenth-century drink of wine-curdled spiced milk. A cinch to make, the posset packs quite a punch especially if topped with a fruity compote.

500ml / 17fl oz fresh cream
150g/6oz sugar
2 lemons, juice and zest
For the berry compote:
200g / 7oz mixed berries (blackberries, raspberries, blueberries, elderberries, etc)
150g / 6oz sugar (or extra if berries are very sharp)
100ml/4floz water
1 handful lemon balm leaves, chopped (optional, but great with dark berries)

Serves 4-6

Bring the sugar and cream to the boil, turn the heat down and simmer for three minutes. Take off the heat and allow to cool.

Once cool, whisk in the lemon juice and zest and beat thoroughly for about two minutes. Pour into clean jars or glasses and leave in the fridge to set for three to four hours.

Before you make the compote, taste one or two berries to check for sweetness - if they're rather tart you may want to add a little extra sugar. Combine the berries, sugar and water in a small saucepan, bring to the boil and reduce to a simmer. If you have managed to get, your hands on some lemon balm, add the chopped leaves at this stage.

Cook just until the sugar dissolves and the fruit has softened but not pureed, about 10 minutes depending on the type and ripeness of the berries. Check the sweetness of the compote, adding a little more sugar if necessary (you may want to dissolve it in a little hot water and add as a sugar syrup to ensure it is fully dissolved).

Allow to cool before pouring a little on top of each of the set possets. We like to serve these with little biscuits on the side.

Tip: Diced rhubarb also makes for an interesting seasonal compote, although you'll need to be more generous with the sugar and with the cooking time to soften the fruit.