Book Review - Oyster Delight by Jonathan Mite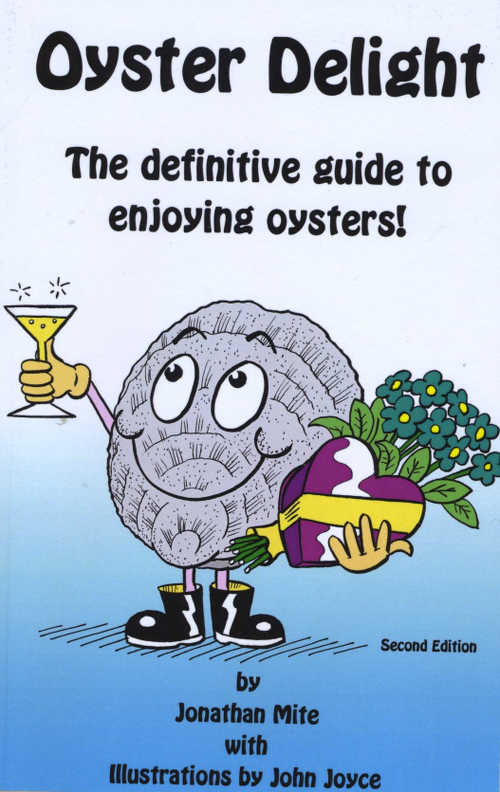 Oyster Delight (White Seahorse Press, paperback 100pp; price approx. €10.22 from Amazon.co.uk, also available online from www.whiteseahorse.com)
You'll have to read About the Author to work out who Jonathan Mite is, as this wacky little book is actually by 'scribe and oysterman' (and, as it happens, marine biologist) Alex Blackwell and his 'editor and oyster gourmand' wife Daria, who live in Co Mayo and produced and sold oysters in Ireland and abroad for many years.
Alex describes the book - which began as a leaflet, grew by popular demand and is now in its second edition - as 'tongue in cheek' but, behind the humorous front and cheeky drawings, there's a mine of useful information about oysters, buying and storing them, opening them, a note about allergies and much more, along with a good stash of recipes - some of which come with a note "Warning: may induce compulsive eating behaviour." Unlike most books today it is not awash with full colour images, but the black and white photos and drawings have a nice retro feel.
The couple spent 20 years in the States, so there's an American tone to a lot of the recipes and a feeling that the book is aimed at the US market (it is priced in USD on their website), but their local ties are strong and Alex's sister, Kirsten McDonagh of the delightful seafood restaurant Quay Cottage in Westport, supplied some of the recipes. She would have been very supportive in his endeavours to interest restaurateurs in serving oysters in those early years too - it's hard to imagine it now, but oysters have not always been highly valued in Irish restaurants as they are today.
Man has enjoyed them for over two thousand years though - the discarded shells are a common ingredient in pre-historic middens - and, with Valentine's Day just around the corner, Alex's motto "Eat Oysters Love Longer" may be worth remembering.

SAMPLE RECIPE: Grilled Oysters with Lemon Garlic Butter
Makes 4 to 6 starters or two main courses
24 oysters
10 tablespoons softened unsalted butter
2 tablespoons finely grated Parmesan cheese
2 tablespoons minced parsley leaves
1 tablespoon lemon juice
2 teaspoons minced garlic
1 teaspoon minced fresh chives
1/2 teaspoon hot sauce, optional
1/2 teaspoon salt
1/4 teaspoon cayenne pepper
Shuck the oysters leaving the meat in the deep shell.
Combine all ingredients except the oysters in a bowl and mix thoroughly. Transfer butter mixture to a piece of plastic wrap and roll up to form a tight log and freeze until firm.
Preheat a grill to high.
Place the washed oyster shells on a baking sheet and top each shell with an oyster.
Remove the butter from the freezer and unwrap.
Slice the butter into 24 rounds and place a round on top of each oyster.
Place the oysters on the preheated grill and cook until the oysters are just cooked through, curled around the edges and the butter is melted and bubbly, 4 to 6 minutes.
Serve immediately.