Book Review - The Chef & I, a nourishing narrative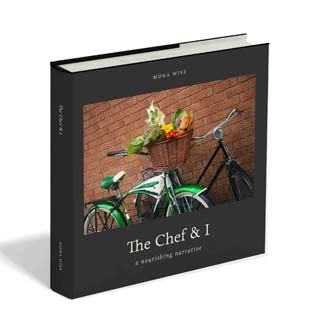 The Chef & I, a nourishing narrative (WiseWords Ltd, hardback, 178pp, full colour, €25; eBook €4.99)

The world of publishing is all topsy-turvy these days and, while book sales are generally in sharp decline – due mainly, we are told, to the rise of the internet and related areas - we see a growing number of bloggers successfully publishing books.

Donal Skehan was the first food blogger to make an impression in print in Ireland but there have been plenty since and one of the most recent is popular Galway-based blogger, Móna Wise (www.wisewords.ie), who had an established following awaiting the arrival of her first book The Chef & I. Self-published in May by Móna and her husband, Ron Wise it's a very attractive, professionally produced book – and it's greatly to their credit that it's all-Irish with everything, including the printing, done in Galway.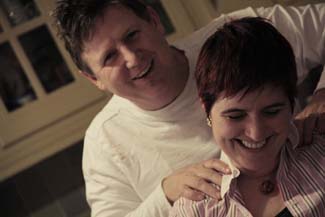 The market, by contrast, is international. Móna spent 15 years in America before returning to Galway to settle with her American husband Ron ('the Chef') and bring up their family here, and the book – which is sold online by kennys.ie and wisewords.ie and also available as an eBook - has a distinctly trans-Atlantic tone with American spelling and US measurements in the recipes.

But the forty or so recipes are only half of the book which is, as the subtitle 'a nourishing narrative' implies, the story of Móna and Ron. It's a love story with a food interest – how they met, their developing relationship, the restaurant they ran together in the States, their adopted family, meals shared with family and friends, and their food philosophy 'growing and cooking wholesome, local, fresh and organic food' just half a mile from the place where Mona grew up.

These days Ron – a graduate of the Culinary Institute of America who has 'always allowed gardening and food to anchor him' – cooks in Morton's of Galway in the mornings and will be found looking after his chickens and ducks or building a swing for the kids in the afternoon.

This book is in fact Mona's third-year university project – she has one year to go of a four year (BA-Connect Degree) course at NUIG studying German, English Literature with a specialism in Creative Writing - with Eoin Purcell acting as her editor. It's a fine production and it's not a bit surprising that she now has her own column with The Sunday Times.

And Móna – who describes herself in the book as 'a five year plan person' – has ambitious plans - this book will be followed by The Chef & me ... with kids (2013), and then The Chef & me ... Breakfast and Bread (2014). Once Móna graduates from college the couple plan to 'shift gears a little' and will work on a much bigger project, titled Cooking away with Patience Gray, which will be a hardback coffee table-style book (2016). Much for their many fans to look forward to.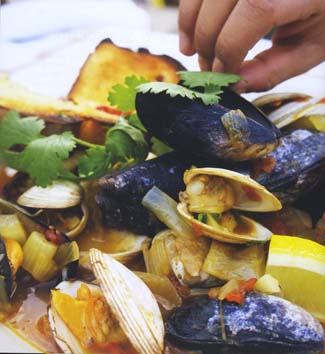 RECIPE: Cioppino

FEEDS 4 ADULTS

When I take that first bite or even just a quick lick of the spoon as he is making the sauce I know instantly, from looking at the color and inhaling the scent, that the next thing that passes through my lips will be my favorite from now until eternity. This is exactly how I feel when I taste this dish.

The smell of the garlic from the sauce, the rich redness of the tomatoes, the inviting orange hue of saffron and the shocking green contrast of parsley thrown in at the last minute. It begs to be savored. It cries out for attention and with magnetic force the spoon goes from hand to pot. I could stop right there. I should stop right there.

Hello, my name is Mona. I am a cioppino addict. Welcome to the club! Oh, and if this is a new dish you are adding to. your repertoire then it is pronounced 'Chuh-peano'. Devour the deliciousness of it all.

INGREDIENTS: Saffron broth

1 bay leaf
3 cups [720 ml] water
Fish bones
Trimming from a bulb of fennel
1/2 cup [120 ml] white wine
Pinch of saffron
Salt
Pepper

METHOD

Place all ingredients into a pot and bring to the boil.

Simmer for 30 minutes then strain.

INGREDIENTS: Tomato fennel sauce

2 onions — diced
4 cloves of garlic
1/2 tsp dried chili flakes
1/2 cup [60 g] celery - diced
1 whole bulb of fennel - diced
1 cup [120 g] chopped tinned tomatoes
2 tbsp butter
2 tbsp parsley, chopped

METHOD

In a large pan sauté the onions, garlic, chili flakes, celery and fennel in a dash of olive oil.

Add in the tomatoes and then finish with the butter and parsley.

INGREDIENTS: Cioppino

1 Ib [450 g] assorted fish
1 Ib [450 g] bag of mussels, scrubbed clean and de- bearded
1 Ib [450 g] clams, scrubbed clean
8 oz [225 g] calamari, cut into rings
3 cups [720 ml] of saffron broth
All of the (above) tomato fennel sauce
A handful of chopped parsley

METHOD

Remove the tomato fennel sauce from the pan and set aside.

Add all the fish and shellfish to the pan and allow to cook for a minute or two. Add the sauce back in and then add the saffron broth too.

Let it simmer until the fish is tender and all the shells have opened. (If they do not open after ten 10 minutes they are duds, throw them out).

If the broth and sauce mixture is too soupy, then strain off the liquid and reduce it in another pan for a few minutes.

Finish with 1 tablespoon of butter and a handful of chopped parsley.

Serve in a large bowl with a loaf of homemade garlic bread.

WiseNotes

Best served with a crisp white wine but beer works too. If you want to make it spicier then add more heat to the tomato fennel sauce. You can be flexible with the fish. I love monkfish with this dish. Do not use smoked fish.