Fig Tart Tatin with Goat Cheese & Mulled Wine Syrup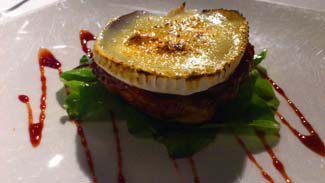 If you're looking for a festive alternative to the traditional plum pudding, this unusual hot dessert from Eden Restaurant in Dublin's Temple Bar could be the answer – and it looks after the cheese course too.

It's part of an imaginative (and, at just €42 for three courses, keenly priced) Christmas menu offered at the restaurant this year, which includes longtime favourite dishes like Eden Smokies and Castletownbere Crab Salad as well as festive main courses such as Fillet of Wild Irish Venison with braised red cabbage and a port and juniper jus.

For The Mulled Wine Syrup:

1 bottle of red wine
300g castor sugar
1 star anise
1 vanilla pod – split lengthwise
1 large cinnamon stick
2 slices of orange
2 slices of lemon
4 cloves

For the Fig Tart:

2 egg yolks
6 figs – stems off and halved
1 goat cheese log (approx 8cm/3 inches diameter, cut in ¼ inch thick slices)
puff pastry (300g is plenty)

To make the mulled wine syrup:

Put all of the mulled wine syrup ingredients into a medium sized saucepan and bring to a boil. Then turn down the heat and leave to simmer until reduced by at least half and then set aside until cold.

To prepare the fig tarts:

Preheated the oven to170ºC/ 340ºF/gas mark 3.

Take 4 individual tart tins (approx 10cm/4 in diameter) and base-line with grease proof paper.

Add 2 tablespoons of the cooled syrup into each tin and then place 3 fig halves face down on top of the syrup in each tin.

Cut the rolled puff pastry into circles roughly the same size as the tins and lay on top of the fig halves.

Brush the puff pastry with the egg yolks and make a few holes in the pastry with a fork.

Bake on a tray in the p[reheated oven for 40 minutes, or until crispy and golden.

Remove the tarts from the oven, flip the tins over on the tray – remove tins, and top with the sliced goat cheese circles.

Grill until golden and slightly melting but still holding consistency.

Serve hot.