Insider View - Dear Santa
This month Lucy Madden enlists Santa's help to make our green and pleasant land can become a more attractive place to live and to visit
Dear Santa,
It is many years since I last wrote to you, but there are just a few things I would like that might make life cheerier for a lot of us. A recent visit to the Four Courts has set me thinking. All I am really looking for is a wand. I want this to wave over our high streets and the first port of call, literally, will be the Quays in Dublin. Since this is the showcase of our capital city, the dismal rows of tawdry and downmarket shop fronts do nothing to bring a joyous upsurge of the spirit. They do it by the Seine, the Danube, beside the canals of Amsterdam: why not along the Liffey? By whose authority did this sad state of our riverfront come to pass?
Can you arrange a distribution of paint pots, as if the G8 were coming to town, and let there be a burgeoning of small shops selling things visitors want to buy, our crafts, antiques, our artisan foods, chocolates. American visitors told us recently that, having spent a day in Dublin, they thought they had seen all there was to see. Imagine saying that about London, Berlin or even Belfast?
And, Santa, may I have some seed packets for distribution? Outside our local town a patch of wild flowers was planted on the roadside and its exuberant blooms brightened an otherwise unremarkable stretch of road all summer long. Something similar would go a long way to improve our desolate pedestrianised spaces, the shopping malls and car parks.
You only need to look at the town of Westport where the planting in the town centre demonstrated that an artist was at work; people were jostling for position to photograph the beds. (This begs the question, incidentally, why garden designers are not given the accolades as 'the artists' that they can be and why their efforts are side-lined into 'lifestyle' sections of newspapers?) I have seen the work of these horticultural artists in a few parts of the country, where they have replaced the rows of garish bedding plants with distinguished displays of herbaceous plantings.
Some judicious seed choices might do away with the ubiquitous rows of pampas grass and New Zealand flax that adorn our urban spaces. And perhaps, Santa, with the seeds you could arrange for a dispersal of handsaws in rural areas so we can cut the ivy that is strangling so many of our trees and spoiling their sculptural winter beauty; the countryside would be transformed. The season has shown up our roads to be lined by trees weighed down with the unsightly growth.
Lastly, Santa, may I ask for some flash cards? Several of these must read 'sorry' and for purposes of practicality I shall keep one in the car, although at the scene of a car accident in which I was involved the use of that word once landed me in a court of law. I did explain to His Honour that 'sorry' had meant I was sorry the event had happened rather than accepting blame for it, and that did the job, but in the wider sphere the word could be used to avoid a lot of trouble. (A card reading Get Back would be useful too, to deter tail-gaters.)
The word sorry is a strong weapon in anyone's armoury and indispensable in the world of hospitality where the customer, even the most mean-minded and nit-picking of individuals, is deemed to be right. (Sadly this is not the case in the medical world where practitioners avoid the word lest it will open the flood gates of litigation, when in fact so many who consider themselves wronged only want to hear that word.) And, having been peripherally involved in a law case recently and seen the hordes of bewigged show-offs – sorry, barristers - who hover expensively around litigants, I know my 'sorry' flash cards could be much in use.
A Croatian community group who are suing Bob Dylan for incitement to racial hatred have said they will drop the case if he apologises. It's hard not to think that the internecine affair between the owners of Lissadell House and Sligo Co. Council may have been halted, had there been more goodwill or even the 'sorry this is happening, can't we fix it?' conversation between the participants long before it reached the stage it has, with its very dire ramifications for tourism and Co. Sligo? Why does everyone have to be so litigious? So much litigation is not necessarily about justice, more about ill will. Do we want to be, as Nigella Lawson said about Charles Saatchi, people who see 'litigation as a form of conversation'?
I'm not asking for much, Santa, but with a little tweaking at the edges I know our green and pleasant land can become a more attractive place to live and to visit. Merry Christmas to us all.

---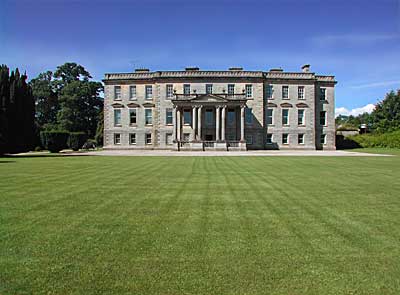 Together with her husband Johnny & family, Lucy Madden runs their magnificent 18th century mansion, Hilton Park, Clones, Co Monaghan as a country house which is open to private guests, groups, small weddings and conferences. The restored formal gardens are also open by arrangement. Lucy is a keen organic gardener and also a member of the Irish Food Writers Guild.