Mushroom Soup in a Blaa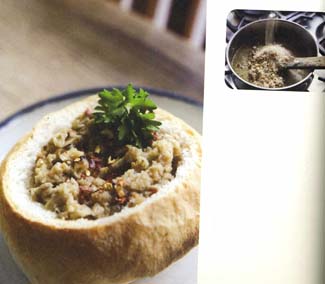 From 'Our Daily Bread' (hardback 'with a cover the soft feel of a loaf of bread', €25 incl p+p, available online from www.barronsbakery.ie)

"This is an easy recipe and quantities of ingredients don't have to be exact, so you can avoid using the weighing scales. I serve this in a crusty roll, such as one of Barron's traditional blaas*," explains Eithne Barron. "The bread taken out of the roll to make space for the soup is used as breadcrumbs to thicken the soup. The cut-off tops can be buttered or dipped in olive oil." (*The Waterford 'blaa' is a local speciality bread roll).

Serves 4

2 handfuls mushrooms, chopped
1 large onion, finely chopped
1 clove garlic, finely chopped
Knob butter
500ml water or stock
1 handful breadcrumbs
Chopped parsley
½ teaspoon chopped chilli or chilli flakes (optional)
Splash milk or cream (optional).

In a saucepan with the lid on cook the onions, garlic and mushrooms in the butter until the onion is soft. Add the stock, which can be chicken, beef or vegetable, or water, with a dash of soya sauce. Gently simmer for 10 minutes.

Cut the tops off four rolls. Remove most of the inside, leaving a thick enough crust to hold the soup. Brush the inside with melted butter and place in the oven for 10 minutes at 180°c, 350°F, GAS 4 to crisp up a little.

In the meantime, make breadcrumbs from the insides of the rolls.

To finish the soup add the breadcrumbs and cook for a further 5 minutes until the soup thickens and becomes deliciously creamy. Add a splash of milk or cream to finish if you fancy it, and top with chopped parsley and/or chilli in winter.

Spoon the soup gently into the rolls and serve.