The Eunice Power Column - Picnic Time!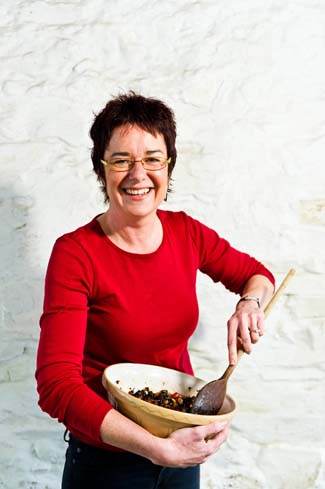 Picnic time has arrived – Yipee! Be it a picnic on the beach, from the boot of the car at the local show or the big basket stuffed with goodies that's brought out to the fields to boost the morale of weary silage men.
For me the most enjoyable eagerly awaited part of a picnic are the sandwiches. A good sandwich is about good bread - no matter how exotic the fillings are the quality of the bread is of paramount importance to the sandwich experience. The kind of bread I am talking about is the stuff that had a good crust and is a bit of a battle to chew - but it is worth the battle. Shop bought sliced pans just don't cut it.
Over the past few years bread has been much maligned. Yes I agree that there is a lot of rubbish out there and its only until you taste the real thing can you distinguish the difference. In the same respect there are many of good bakers out there making excellent daily bread.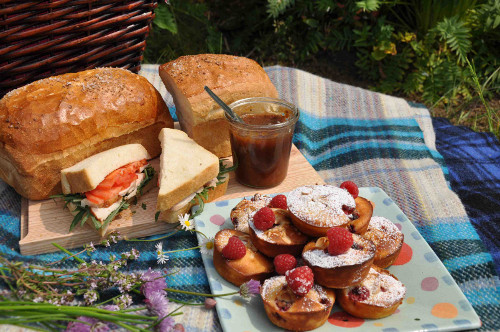 Making your own bread is such an enjoyable and satisfying experience on so many different levels. The kneading I find is akin to a massage where both the bread maker and the bread benefit from the effort. Then there is the wonderful smell of bread baking – if only you bottle that comforting redolent aroma.
And to course let us not forget some cake. I favour little almond friends studded with raspberries, these are wonderfully moist and easily transportable in a tin, the perfect accompaniment for the not so hot tea administered from my battered flask.
Sandwich bread
Feel the fear and do it anyway – I don't think this expression was meant for bread making but I find it appropriate. There is a fear of working with yeast amongst a large percentage of the population. When I teach baking and mention yeast there is a collective gasp – replaced a few hours later by expressions of joy as proud bakers remove golden loaves from the oven.
The following is a very simple bread recipe, using dried yeast – available in supermarkets and strong flour. Strong flour has a higher gluten content than plain flour and so gives better results. Someone once said that gluten is bread - I tend to agree.
Once you have mastered making bread you can add your own extras, from a handful of finely chopped herbs, softly fried onions, and spices. All of which should be added to the flour before the liquid is added.
1½lbs / 700g strong plain white flour
A good pinch of Maldon sea salt
1 x 7g sachet dried yeast
¾ pint / 450ml warmed water
3 tbsp / 45ml olive oil
Egg wash
1 small egg beaten with a tablespoon or so of milk
Sift flour, salt and yeast into a large bowl. Make a well in the centre and pour in the warm water and the olive oil to form soft dough.
Knead for 10 minutes until smooth and elastic, then place in a oiled bowl. Cover with a cloth Let it sit in a warm place for about an hour, or until it's doubled in size. If you check it after about 15 minutes, you should notice that it's started to grow.
Once the dough has risen completely, knock back or deflate the dough by pressing down with your knuckles, basically you want to knock the air out of it, knead it a couple of times (I do this in the bowl) and form it into a neat ball by cupping your hands gently around it, apply a light, downwards pressure to the sides whilst rotating the dough to form a smooth ball It should be smooth and tacky, but not sticky.
Shape the dough into a baguette and allow to prove/rise Let the loaf rise like this for about an hour, or until its doubled in size. About 15 minutes before your hour is up, preheat your oven to 200c degrees.
When dough has risen brush with egg wash, if you like you can sprinkle some sea salt or seeds on top. Bake at 200°C for 25-30 minutes.
When the bread is done, the crust should be a nice golden brown. A good tip for checking if your bread is cooked through-tap the bottom of the loaf. If it makes a hollow sound, you're bread is baked through. If not, pop it back into the oven for a few more minutes.
Transfer to a wire rack to cool. Allow to cool before slicing.

Raspberry and almond friands
Friands for friends – if they weren't your friend before now they will be once they try one of these little almond treats
175g butter melted
120g ground almonds
6 egg whites lightly beaten
180g icing sugar – sieved
60g Plain flour
Finely grated zest of half a lemon
100g of raspberries
A handful of flaked almonds
Icing sugar to dust
Preheat the oven to 180C
Lightly butter 12 hole muffin tin
Simple mix all the ingredients together and half fill the muffin holes,
Divide the raspberries between the friands, and sprinkle with flaked almonds.
Bake for 20-25 minutes.
Allow to cool in the tin for 5 minutes or so before gently removing from the tin and cooling on a wire rack.
Dust with icing sugar.
These will keep fresh for a few days in an airtight container.
------------

More recipes from Eunice Power are available on www.eunicepower.com

Room reservations can be made on www.powersfield.com - hope to see you in Dungarvan during the year.

------------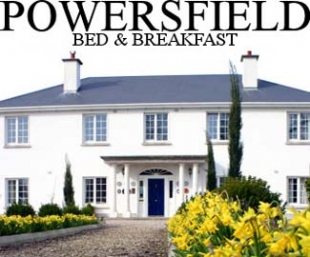 Eunice Power is a professional chef with over twenty years experience in the hospitality business. She runs Powersfield House in Dungarvan County Waterford, which is our B&B of the Year for 2012 and also the winner of the Best B&B Breakfast. Her philosophy is to use fresh, seasonal, locally produced food, sourced organically where possible.

Eunice has a successful outside catering company, writes about food (she is the author of an excellent cookery book written for local company Waterford Stanley) and teaches at Paul Flynn's Tannery Cooking School, where her enthusiasm and zest for a life filled with good food are given free rein."