The Eunice Power Column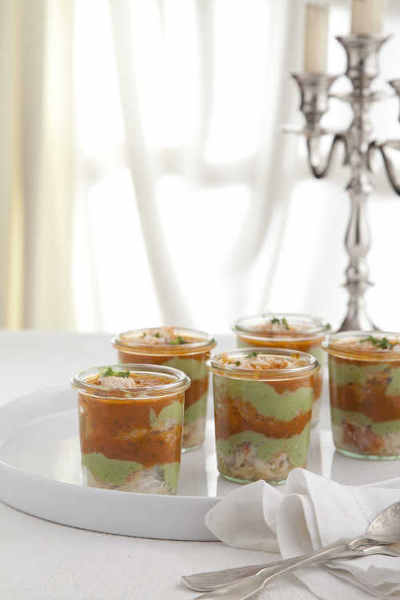 We have the most delicious sweet crab in Co Waterford. I get my crab from Helvic, the pots go out traditionally on St Patricks day – which incidentally is a busy day on land and at sea as it is also the deadline for planting potatoes. We enjoy fresh crab from the end of March until the weather gets cold at the end of October.
Chilled crab trifle
This recipe is inspired by the wonderful British chef, April Bloomfield
Sea salt
300g of prepared crab
Tomatoes:
2 tablespoons of extra virgin olive oil
1 medium garlic clove, halved lengthways
A small handful of basil leaves
450g of ripe tomatoes, blanched, peeled and cored, then roughly chopped
¼ teaspoon of Maldon
To Finish
Green Goddess, chilled (see below)
Lemon-Olive oil dressing
2 tablespoons of finely chopped chives
Green Goddess Recipe
1 medium Hass avocado
3 tablespoons of finely chopped chives
3 tablespoons of finely chopped tarragon leaves
1 medium garlic clove, finely chopped
100ml of double cream
1 large egg yolk
1 tablespoon of freshly squeezed lemon juice/or to taste
1 teaspoon of Maldon
100ml of extra virgin olive oil
Halve and stone the avocado, then scoop the flesh into a blender. Add the rest of the ingredients except the oil and blend, stopping to prod and stir to help them blend, until the mixture is very smooth. Then, with the motor running, drizzle in the olive oil in a nice steady stream, stirring occasionally if necessary, until it's all well combined.
Pour the dressing into a bowl. Have a taste and add more salt and/or lemon if you fancy it. Use it right away.
Make the tomato sauce:
Heat the olive oil in a medium saucepan with a lid on over a medium-high heat until it is hot but not smoking. Add the garlic and cook until it smells toasty and turns a deep golden-brown colour. About three minutes.
Lower the heat to medium, add the basil, tomatoes and salt and give it a stir. Cook until the tomatoes have released some of their juices, then turn the heat to low and cook at a gentle simmer until the tomatoes are soft, sweet and slightly thickened. 15-20 minutes.
Blend the sauce until it's smooth. Cover and put into the fridge to chill.
Constructing the Trifle:
Drain off any liquid from the crabmeat. Drizzle a few tablespoons of the lemon dressing over the crab (Just enough to brighten the crab, not overwhelm it), sprinkle the chives over it, and give it a gentle toss.
Grab 6-8 small glass jars and put a layer of crab at the bottom of each jar, then a layer of green goddess, and then tomato sauce. Keep layering, finishing with crab on top. Cover with Clingfilm and put the trifle in the fridge for 15 minutes.

------------

More recipes from Eunice Power are available on www.eunicepower.com

Room reservations can be made on www.powersfield.com - hope to see you in Dungarvan during the year.

------------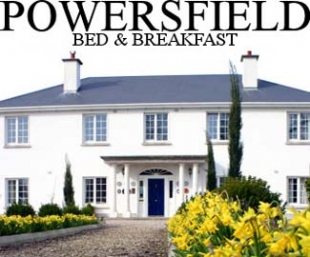 Eunice Power is a professional chef with over twenty years experience in the hospitality business. She runs Powersfield House in Dungarvan County Waterford, which is our B&B of the Year for 2012 and also the winner of the Best B&B Breakfast. Her philosophy is to use fresh, seasonal, locally produced food, sourced organically where possible.

Eunice has a successful outside catering company, writes about food (she is the author of an excellent cookery book written for local company Waterford Stanley) and teaches at Paul Flynn's Tannery Cooking School, where her enthusiasm and zest for a life filled with good food are given free rein."