This Farming Life - The Farmer, the Kitchen and the Big Harvest Menu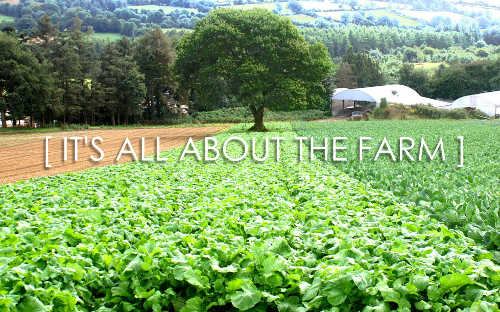 The Farmer, the Kitchen and the Big Harvest Menu
In the spring time, when farmers begin to sow vegetable seeds, they are thinking about the harvest ahead. Throughout the spring the plants are nurtured and, during the summer, the vegetable patch has to be safeguarded from weeds and pests. It's hard work but we look forward to our produce. The end game is to produce healthy, tasty vegetables for the autumn harvest.
I am delighted to produce organic vegetables for the annual Big Harvest Menu at The Strawberry Tree at BrookLodge. Evan Doyle, owner of BrookLodge, has a deep appreciation for food and for the farm. This is the reason that, as a very small scale producer, my organic swedes, cooking apples, cucumbers and green onions were included on this year's menu.
This is also the reason that I was invited, alongside 13 other farmer suppliers, to attend the delicious first night's tasting menu. I had a great evening chatting with farmers who produce delicious, successful brands such as St Tola, Kilbeggan, and Ballybrado. The farmers who produce these do so with a lot of hard work, honesty and passion.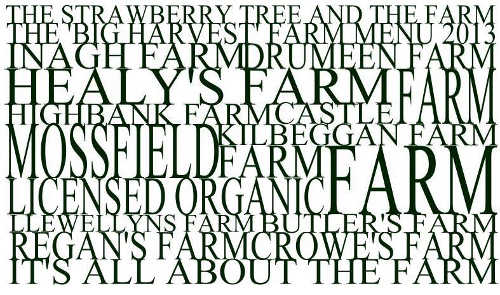 I'm not sure what my favourite part of the menu was but the 90 minute cheese, a joint venture between Mossfield and the kitchen staff, was delicious and exciting. My husband, Peter is still raving about the marinated duck breast, served with courgette flower tempura with swede and apple syrup. Regan's farm supplied the duck, Healy's the courgette, the syrup was from Highbank and the swede was ours.
The Strawberry Tree restaurant at Brooklodge is Ireland's only certified organic restaurant. The head chef, Tim Daly, and his crew work very closely with Irish organic suppliers to ensure that what is in season and what is freshest and best is served to his customers.
This month at The Strawberry Tree it's all about the farm. This special harvest menu will run for the month of September. If you really do appreciate seasonal Irish organic food with provenance, make a point of trying the menu for yourself!
The 'Big Harvest' Farm Menu 2013 is a 7 Course Tasting Menu offered in The Strawberry Tree Restaurant daily, from September 3rd until October 6th at 7pm, 8pm & 9pm. For further information, log onto www.brooklodge.com
THE BIG HARVEST MENU
Organic Harvest to The Strawberry Tree is daily. Through our Kitchen door every morning, fifty-two weeks a year, our Farmers bring what they have harvested, and it is only then that our menu is decided.
However, the 'Big Harvest' only arrives once a year when our menu bursts with all this wonderful produce for all too brief cameo appearances. This year Nature has decide, as Nature does, that The Big Harvest Menu will commence in September (last year it was late October!) where we give full homage to our Farmers, with a Special Tasting Menu dedicated totally to the Farm
Here are the Farms that are contributing to each course. Harvest like this, needs little work in The Kitchen, just respect. We hope you enjoy!
Oatflake Crusted, St Tola Goats Cheese, Poached Pears
Harvests from Inagh Farm, Kilbeggan Farm, Highbank Farm, Mossfield Farm and Healy's Farm
Marinated Fillet of Pork, Pickled Baby Beets, Apple Syrup
Harvests from Crowes Farm, Healy's Farm and Highbank Farm
Crispy Duck Egg, Baby Leaf Salad, Rape Seed Oil Dressing
Harvests from Castle Farm, Healy's Farm, and Drumeen Farm
Our Real Chicken Consommé
Harvests from Butler's Farm, Healy's Farm, Regan's Farm, Mossfield Farm and Kilbeggan Farm
A Buttermilk and Pantry Distilled Strawberry Sorbet
Harvests from Mossfield Farm and Healy's Farm
Slow Cooked Kid Goat, Puff Pastry, Crushed Pink Fir Apple Potatoes, Woodruff Bearnaise
Harvests from Inagh Farm, Healy's Farm, Butler's Farm and Drumeen Farm
Anna's Autumnal Kilner Dessert Pot
Harvests from Highbank Farm, Mossfield Farm, Butler's Farm and Healy's Farm
For further information about what we produce at Castlerfarm log onto www. Castlefarmshop.ie.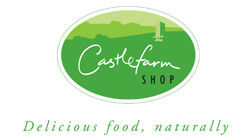 To receive our newsletter and news of new producs by email please contact Castlefarm Shop, Narraghmore, Athy, Co Kildare, Email jenny@castlefarmshop.ie, log onto www.castlefarmshop.ie or telephone 087 678 5269