ireland-guide.com wins highly coveted internet award - 2008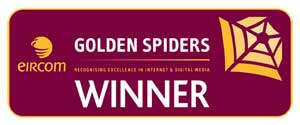 Ireland's leading independent hospitality and travel website – Georgina Campbell's www.ireland-guide.com - was honoured on Thursday 20th November 2008 at a glittering awards ceremony in Dublin's Burlington Hotel, with the presentation of "Best Travel, Tourism & Hospitality Website 2008 Award" at the annual Eircom Golden Spider Awards – Ireland's leading internet awards.

Hailed as "the Oscars of the internet industry", the eircom Golden Spider Awards are Ireland's leading showcase for excellence in online business and the people running them. Georgina Campbell's www.ireland-guide.com was shortlisted out of hundreds of entries for the "Best Travel, Tourism & Hospitality Website Award 2008".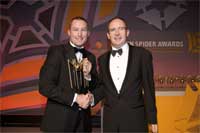 "This is the third time in three years that we have been shortlisted for a prestigious Eircom Golden Spider Award, and we are delighted to have finally won this coveted award" said Bob Nixon, Director of ireland-guide.com on accepting the award, "This is a milestone for ireland-guide.com, and testament to all the hard work that the entire team at Georgina Campbell Guides have put into this site. It is fantastic to get the recognition that this coveted award brings. We were the first guidebook to put all of our reviews online at no charge to the establishments or the readers; this was a risky strategy, but has paid off and has seen ireland-guide.com rise to become the leading independent Irish hospitality and travel website, with around 2 million visitors a year. We are now looking forward to sitting down to plan ways of making Ireland-guide.com an even better resource for our visitors, and therefore drive more business to our recommended establishments" added Nixon.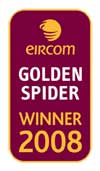 Established in 1997, the eircom Golden Spiders are judged by a respected panel, chaired by Cathal Magee, Director of eircom and comprising leaders from industry, commerce, media and academia. The Panel evaluates websites based on different criteria including: content, structure and navigation, visual design, functionality, interactivity, and overall experience.

The annual Golden Spider Awards honour Irish individuals and organisations for outstanding achievements online, and celebrate the successes of the Irish Internet and digital media.

The awards reward Irish businesses and community organisations and individuals for their creativity and innovation and provide an important opportunity to recognise and showcase online excellence. The Eircom Golden Spider Awards are considered an important benchmark for distinction and excellence in web based business strategies.

For more information please contact Bob Nixon - bobnixon@ireland-guide.com