2013 Award Winners B&B OF THE YEAR 2013
The Archways B&B, Rosslare, Co Wexford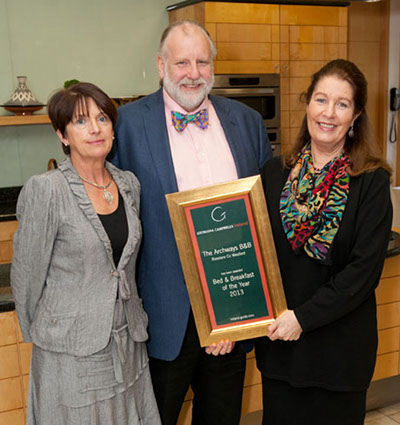 What makes a great B&B? The best are lovely, friendly places to stay, with comfort, good food and interested hosts who anticipate their guests' needs yet give them space – and who enjoy nothing better than helping their guests to explore the surrounding area.
If you're lucky they may even dinner, as they used to do. If you're visiting south Wexford then you're in for a treat, as seriously good food, including evening meals, is the USP at Chris & Eileen Hadlington's outstanding B&B. Seasonal, local and home produced is the ethos, so you may look forward to the best from local artisan producers, seasonal locally caught seafood, and local wild game, along with house specialities that include sweet and savoury preserves, many with an unusual twist.
Great food and genuine hospitality go hand in hand here and, for those arriving on the ferry and facing a long drive, this is the perfect place to overnight - even late arrivals are catered for, with home made soup and sandwiches on offer.
The Guide is not generally a fan of roadside B&Bs but this smart modern house, set reasonably well back from the Rosslare Road just outside Tagoat, is an exception that is well worth knowing about. Eileen and Chris Hadlington both have some 30 yea ...
more...
---
Show me all 2013 Award Winners