2010 Award Winners BUSINESS HOTEL OF THE YEAR AWARD 2010
Fitzwilliam Hotel Dublin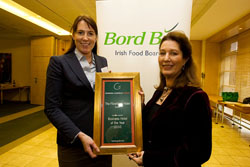 Other hospitality guides tend to focus exclusively on leisure travel, but many of those using our Guide and website (and joining our quality-led dining and breaks initiative, The G Club) are business visitors – or potential business hosts – and we recognise the importance and special requirements of the business guest. The number of hotels with excellent business and conference facilities has increased dramatically (which bodes well for Ireland longterm), and competition in this sector has become seriously hot; many are very large venues – but smaller establishments can have a special niche appeal which is sometimes more appropriate.
Although perhaps more often seen as a leisure destination (the city's prime shopping area is, after all, on the doorstep), this stylish contemporary hotel on the west side of St. Stephen's Green is no stranger to business guests.
In fact, should you have a meeting arranged with one of the companies based nearby, you may well find that it is redirected to The Fitzwilliam Hotel, which seems to be regarded as a sort of extension office by some executives.
You won't get a more central or convenient business base than here and not only is the bar one of the city's handiest meeting places but, with an on-site choice between the smart Citron Brasserie for informal dining, and one of the city's finest restaurants,
Thorntons
, when nothing but the best will do for business guests, the hotel offers all that is required to make the right impression for business entertaining.
By contrast with big conference hotels, the scale is pleasingly intimate, with three stylish and state-of-the-art meeting rooms available for up to 80 delegates, an emphasis on service and on-site parking; accommodation is discreetly luxurious and residents will find not just 24 hour room service but also that the gym is open around the clock.
Women travelling on business will especially value the in-house hair & beauty salon. And, not only is this chic hotel known for understated luxury and discreet service, but it has a great hidden asset - Ireland's largest roof garden.
If a comfortable city centre base is what you're after, you won't get more central than this stylish contemporary hotel, and, behind the deceptively low-key frontage (Luas station at the door), lies an impressively sleek interior - initiall ...
more...
---
Show me all 2010 Award Winners