2013 Award Winners CAFé OF THE YEAR 2013
The Wooden Spoon, Killaloe, Co Clare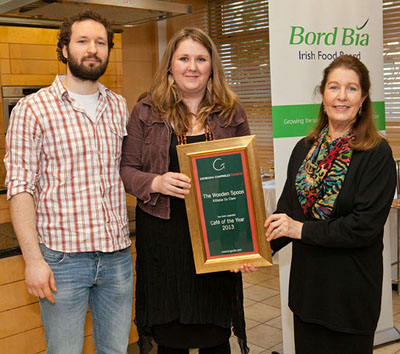 One of the questions I am most often asked is whether I would like to have my own restaurant, and the answer is unequivocal: while I admire a well run restaurant more than most, I've never felt tempted to get involved myself. But, had I been asked about a bakery and tea shop, now that would have been a different matter. I've always had a special grá for baking and this area of hospitality is comfortingly homely. So we keep an especially keen eye out for good bakeries and cafés, and it's been good to see them taking off lately – although some of those new to the business might be surprised to hear that running a good bakery/café business amounts to a lot more than digging out a few old mismatched bits of china and donning a pinny.

This award gives recognition to the best of those valuable all-day operations – usually small and owner-run – which not only lift the visitor's spirits in a flash, but also the reputation of any town or village lucky enough to be its chosen location. Our main aim is to seek out good simple cooking based on quality ingredients - and especially the home baking that can be the highlight of a day out.
An atmospheric setting always adds to the pleasure of eating, and it's one of the many reasons that Laura Kilkenny's charming bakery and café is among our favourites. Tucked into a steep hillside west of the bridge in Killaloe, it was formerly a characterful traditional pub. There's still a sense of the old bar – complete with a welcome fire down at the far end – but now the counter tops are piled high with freshly baked scones and cakes and every kind of temptation you could think of, notably a huge bowl of meringues...
And you can have a really tasty and (perhaps surprisingly) healthy, hot meal here too. A gorgeous big bowl of homemade soup with predictably delicious freshly baked brown soda bread, perhaps, or a generous, richly flavoured beef and Guinness stew, served with a generous dash of real hospitality.
The Wooden Spoon is a hidden treasure and deservedly popular.
On the hilly street which looks down over the bridge between Killaloe and Ballina, Laura Kilkenny's lovely café and bakery opened in 2009 and moved across the road to the former Gravitas premises in 2014. You'll still find all the familia ...
more...
---
Show me all 2013 Award Winners