2012 Award Winners GREEN IRELAND HOSPITALITY AWARD 2012
Coopershill House, Riverstown, Co Sligo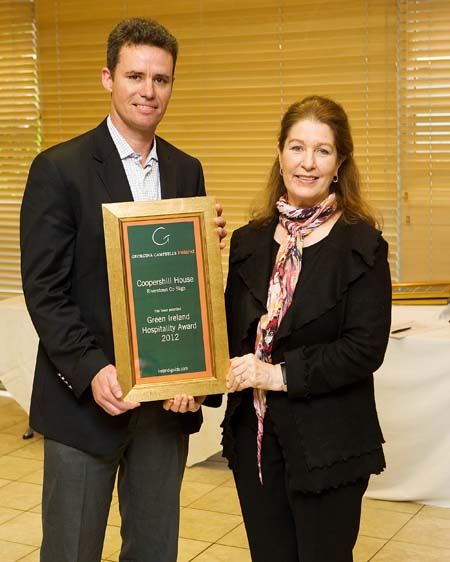 The question of ecological damage caused by tourism has been taxing many a mind of late, and we at GCGuides are no exceptions. When requesting factual data from recommended establishments we ask about environmental accreditation and any initiatives being undertaken by individual properties. This tells us that many establishments are taking active measures to reduce environmental damage, some achieving national recognition with the Green Hospitality Awards scheme (now including restaurants and festivals), and some have received official EU recognition of standards being met. Our own Green Ireland Hospitality Award recognises outstanding environmental efforts made by recommended establishments, and is open to all categories in The Guide.
How many places can you think of where you could glance out of your bedroom window in the morning and spot red squirrels dashing across the lawn? And then watch them again from your breakfast table, as they enjoy theirs? A rare experience, and one that sums up the environmental good health of this magical place which, in 2009, became the first luxury property in the UK or Ireland to achieve the EU Flower environmental Award.
A 500 acre estate of woodland and pasture supplies much of their food (including the venison recently selected for an Irish Food Writers' Guild Award), they compost vegetable waste and use sustainably produced firewood.
Explaining that they were 'environmental centuries before it became fashionable', the owners of
Coopershill House
say they are " most fortunate to live in a 235 year old building that was built in an age of self sufficiency and designed with enormous windows for light, to be heated with bio-fuels and to use the rain that falls on her roof".
Just so, but they have built on that good fortune with great care and – while it in no way detracts from guest comfort – the environmental programme in place at this beautiful property is extremely thorough.
Undoubtedly one of the most delightful and superbly comfortable Georgian houses in Ireland, this sturdy granite mansion was built to withstand the rigours of a Sligo winter but it's a warm and friendly place. Peacocks wander elegantly on the cro ...
more...
---
Show me all 2012 Award Winners