2013 Award Winners HOTEL OF THE YEAR 2013
Granville Hotel, Waterford City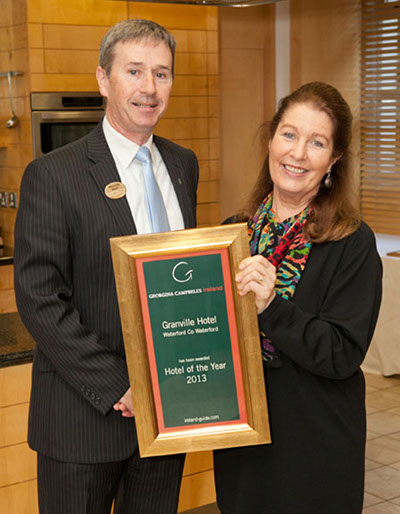 Irish hotels have taken a terrible hammering over the last few years, but as long as we have great independent hoteliers an important aspect of this country's unique appeal will be in safe hands. We must treasure them, before it is too late.
Everyone who visits the Granville seems to come away with a smile on their face – and probably an anecdote about the lovely staff and how they made everyone feel at home. It's not a fancy pants sort of place – it's actually a 3* hotel - but immaculately maintained, full of pride in its history, its place in the local community and the genuine hospitality they offer their guests.
"It has," as one of our assessors remarked, "that indefinable ambience of the well-run privately owned hotel, the sense of being cosseted in an old fashioned way unlike the slick informality of modern 'concept' establishments", while a guest dining in the hotel commented on "The mature Irish staff with young local staff working alongside – they're what Irish hospitality used to be all about…chatty but not intrusive, charming and full of local recommendations for us to do. We loved it."
And we love it too: whether for business or pleasure this is a lovely place to stay and it makes a very comfortable and friendly base for exploring the area – we can't commend the management too highly for their exacting standards in all areas and, especially, the warmth of their genuine Irish hospitality.
One of the country's oldest hotels, this much-loved quayside establishment in the centre of Waterford has many historical connections - with Bianconi, for example, who established Ireland's earliest transport system, and also Charles Stuart ...
more...
---
Show me all 2013 Award Winners