2008 Award Winners NATURAL FOOD AWARD 2008
Jacques Restaurant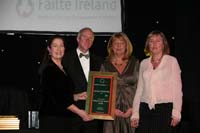 The Natural Food Award has been an essential element of the Guide since it started and, by recognising an establishment or individual who pays special attention to sourcing the freshest and best local, naturally produced food, it is a gentle reminder to others – especially the larger establishments – that this is the way things should be done whenever possible.
Sisters Eithne and Jacqueline Barry have run their restaurant near the English Market for a quarter of a century - the interior goes through periodic re-makes, but the fundamentals of warm hospitality and great food never waiver, and that is the reason why many would cite Jacques as their favourite Cork restaurant. There is always a personal welcome and, together with Eileen Carey, who has been in the kitchen with Jacque Barry (now leader of the Cork Slow Food Convivium) since 1986, this team steadfastly puts high value on the provenance and quality of the food that provides the building blocks for their delicious meals.
Daily menus are based on carefully sourced ingredients from a network of suppliers built up over many years - just after the Guide went to press an regular email arrived from the winning restaurant: "… to show how we change our menus daily….great time of year … we use all local produce … tomatoes, chard, aubergines, courgettes … Fingal (Ferguson) comes up with new salamis all the time…mallard has just come on stream...etc" Just wonderful.
An integral part of Cork life since 1982, sisters Eithne and Jacqueline Barry's delightful restaurant has changed with the years, evolving from quite a traditional place to a smart contemporary space. Big changes took place recently, with an extension ...
more...
---
Show me all 2008 Award Winners