2013 Award Winners PET FRIENDLY HOTEL OF THE YEAR 2013
Cromleach Lodge, Lough Arrow, Co Sligo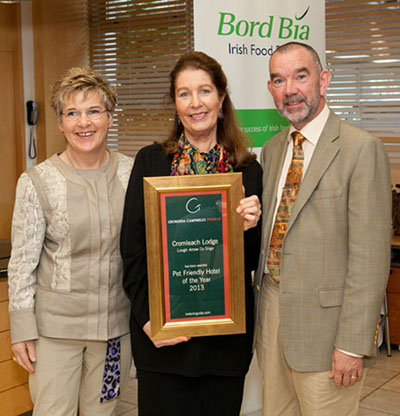 We hear a lot about the difficulty of winning over the UK market but, as a country, we're missing a trick when it comes to pet friendliness. We know that the English love to travel with their dogs but we lag way behind our UK neighbours in this; if you google an area in Britain looking for somewhere to stay, chances are that pet friendly options will pop straight up. In my native Cornwall, contented dogs bring their owners into the pub after country walks – and the county's beaches are officially listed online as dog-friendly or (equally importantly) dog-free. But maybe we're beginning to see the light. Many establishments here have quietly welcomed dogs for years, and many more are seeing opportunities in this market – including, interestingly, some 5* star hotels. And why not, if you want to persuade both visitors and Irish holidaymakers to by-pass the airport…
Christy and Moira Tighe of Cromleach Lodge have definitely spotted an opportunity here, and have taken things a step further than most. Cromleach has long been renowned for its high standards in many areas - wonderful food, great hospitality, exceptional standards of housekeeping, stunning lough views, and even romantic weddings. All manner of good things actually, but one you mightn't have thought of is pet friendliness.
But these enterprising people are not content with pampering their guests – they've also embraced the fact that many of them like to travel with their four-legged friends, who are not only very welcome at Cromleach Lodge but they can be pampered too, by making an appointment with Cromleach's professional dog groomer, Blathnaid O'Connell (call her directly, 071 966 4678).
Dogs may stay in the bedrooms with their owners, under supervision, and there are plenty of walks locally, or they can be walked on the hotel grounds. Now how cool is that for Fido.
Quietly situated in the hills just above Lough Arrow, Christy and Moira Tighe's special hotel enjoys one of the finest views in Ireland - and it has earned a reputation as a luxurious retreat for discerning guests. Although the hotel has gr ...
more...
---
Show me all 2013 Award Winners