2013 Award Winners SEAFOOD RESTAURANT OF THE YEAR 2013 SPONSORED BY BIM
The Oar House, Howth, Co Dublin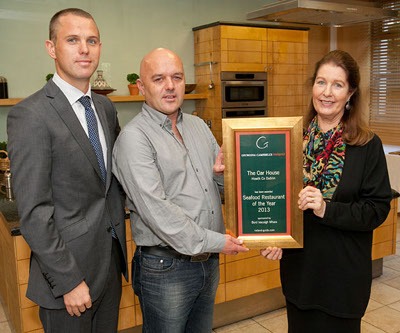 Although we eat less fish at home than might be expected for an island nation, everybody – whether living in Ireland or just visiting - seems to love seafood when eating out, so it's an increasingly vibrant sector of the restaurant business.
And there can be no better place to enjoy seafood than a quayside restaurant like The Oar House, with fishing boats tied up just outside. Imagine an old smoke house with a corrugated roof, converted to create a nautically-themed restaurant with fishing nets, buoys, old masts and sailing instruments giving it a casual, vibrant and welcoming atmosphere...
Add ultra-fresh fish, from Dorans of Howth fish shop next door (which is mainly supplied by the Dorans' own fishing boat and several other local boats), and a bustling open kitchen where chefs are busy preparing everything you can think of, from grilled sardines to baked monkfish, or maybe succulent scampi to seafood platters. And, as the fresh fish is displayed in cabinets in front of the kitchen before cooking, you can even go up and have a look before taking your pick.
Everything is simply and cleverly prepared and this – together with generous portions, terrific service, value and a good buzz - make The Oar House a real treasure for fish fans.
Although one of the relatively recent restaurants to open in Howth, the nautically-themed interior of The Oar House - an old smoke house on the West Pier - has a lived-in feel that makes you believe it's been sating diners for decades. The cor ...
more...
---
Show me all 2013 Award Winners