2013 Award Winners HOSTS OF THE YEAR 2013
Paddy & Julia Foyle, The Quay House, Clifden, Co Galway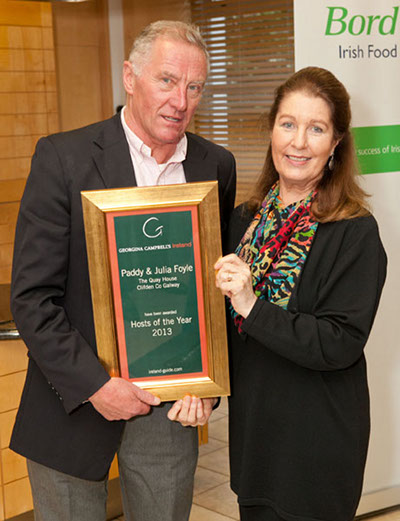 Every time a visitor satisfaction survey is published the results are the same, with Ireland's wonderful scenery (still impressive, despite everything) and the warmth and friendliness of the people coming up trumps every time. – although there was some slippage in the boom years, when visitors were not always welcomed by people with good local knowledge, or staff were 'too busy' to give the individual attention that makes a stay memorable.
Neverthleless, we have more than our fair share of really great hosts, whose nature is genuinely hospitable, and Paddy & Julia Foyle's special brand of hospitality has become legendary. These long-time hoteliers have brought their magic to a number of West of Ireland businesses over the years, and their present quayside property has become a favourite destination for the many guests who appreciate everything about the place - the quirkily stylish and extremely comfortable surroundings, the delicious breakfasts and, most of all, the owners themselves.
They are consummate hosts: thoughtful, engaging, helpful and generous with local knowledge - and, perhaps most importantly, have the true hotelier's instinct of when to give their guests space. A stay is always a luxuriously enriching experience, simply because they have thought of everything.
Paddy and Julia never put a foot wrong at Quay House and anyone who stays here is sure to plan a return visit as soon as possible.
In a lovely location - right on the harbour, with pretty water views when the tide is in - The Quay House is the oldest building in Clifden and was built around 1820. Since then it has had a surprisingly varied usage: it was originally the harbourmast ...
more...
---
Show me all 2013 Award Winners