Greencastle Chowder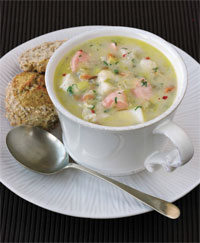 Kealys Seafood Bar in Greencastle, County Donegal is the Georgina Campbell Seafood Circle Bar of the Year 2010, sponsored by BIM.

This recipe is from Tricia Kealy, wife of the late James Kealy, and it is undoubtedly the most popular dish on their menu - Tricia doesn't like to think how many gallons of chowder they have made over the years!

Excellent at any time of year but especially welcome in chilly weather, this delicious recipe is a fitting tribute to James.

1.2 litres/2 pints fish stock
100g/4oz skinless salmon fillet, cubed
100g/4oz skinless haddock fillet, cubed
50g/2oz butter 1 onion, chopped
2 carrots, chopped
1 leek, chopped
3 celery sticks, chopped
1 tsp chopped fresh dill
1 tsp crushed pink peppercorns
50g/2oz plain flour salt and freshly ground black pepper
Angostura bitters
a little milk (optional)
pouring cream and chopped fresh parsley, to garnish

To Serve
freshly baked brown scones

SERVES 4-6

Bring the fish stock to a gentle simmer in a large pan and add the salmon and haddock. Cook for a couple of minutes until tender, then transfer to a plate with a slotted spoon. Set aside until needed.

Melt the butter in a separate large pan over a medium heat. Sweat the onion, carrots, leek and celery for about 10 minutes or until they are softened but not coloured. Add the dill and pink peppercorns and cook for a further 5 minutes.

Stir the flour into the vegetable mixture and cook for 5 minutes, stirring constantly. Gradually pour in the fish stock, stirring until smooth after each addition: add a dash of Angostura bitters, then bring to the boil and simmer for 15 minutes until all of the vegetables are completely tender and the liquid is slightly reduced. Season to taste.

Just before serving, a little milk can be added to thin out to desired consistency. Add the cooked salmon and haddock to the chowder and allow to warm through. Ladle into warmed bowls and garnish with a little cream and some parsley. Arrange on plates with some brown baby scones to serve.