Happy Easter - Easter Chocolate Cake - Pesto Chicken and Pasta Salad
Easter weekend has rushed up on us this year, with all the cold weather we've had this spring, but last week's braised lamb recipe and today's easy chocolate Easter cake and a vitamin-packed main course salad should see us through all the weather combinations the long weekend may have in store.


Easter Chocolate Cake
This easy all-in-one recipe was devised by TV chef Neven Maguire for SuperValu , so all of the ingredients are easily available locally – and, like all of Neven's recipes, it is delicious and very do-able.

175 g / 6 oz plain flour
50 g / 2 oz cocoa powder
1 heaped teaspoon baking powder
1 heaped teaspoon bicarbonate of soda
75 g / 3 oz caster sugar
2 large eggs, beaten
150 ml / 5 fl oz milk
150 ml / 5 fl oz vegetable oil
2 tablespoons treacle
For the Filling
175 g / 6 oz best quality dark chocolate
75 ml / 3 fl oz cream
25 g / 1 oz butter
Chocolate rabbits and eggs for garnish

Pre-heat the oven to 170ºC / Gas mark 3

Sieve the flour, cocoa powder, baking powder and bicarbonate of soda into a large bowl. Next, stir in the caster sugar, the eggs, milk, vegetable oil and treacle. Stir everything together until you have a smooth mixture.

Grease a 9"/22cm spring form cake tin with butter and sprinkle with some plain flour; remove any excess flour and pour the cake mix into the tin. Place in the middle of the pre-heated oven and bake for 20-25 minutes. Check the cake is cooked by inserting a skewer into the centre, if the skewer comes out clean, the cake is ready, otherwise leave for another 5 minutes. Remove the cake from the tin and leave to cool on a rack.

To make the filling: break the chocolate into small pieces and place in a bowl along with the cream. Place the bowl over a pot of simmering water and leave for about 5-6 minutes until the chocolate melts. Place the butter into the bowl and stir until it has melted. Leave to cool.

Place the cake on a plate and coat with the chocolate sauce. Decorate with chocolate bunnies and eggs.


SHORT RECIPE - Pesto Chicken and Pasta Salad

Serves 4

2 chicken breast fillets
1 tsp olive oil
4 tbsp pinenuts
150g/5oz pasta, shells or penne
1/2 red onion, sliced
225g/8oz cherry tomatoes, halved
175g/6oz cucumber cut into chunks1
bag (120g) Italian salad leaves
Dressing:
1 tbsp olive oil
2 tbsp pesto sauce
1 tbsp red wine vinegar

Heat a griddle pan. Brush both sides of the chicken with a little of the oil, season and cook on the griddle for 15-20 minutes, turning once, until golden brown on the outside and cooked through,

Meanwhile, cook the pasta in boiling salted water for 8 minutes or until just just cooked, then drain in a colander and run under the cold tap until cold. Drain, then place in a large bowl.

In a small pan, cook the pine nuts over a low heat in the remaining oil, for 2 minutes, or until golden brown.

Add the sliced chicken, pine nuts, onion, tomatoes and cucumber to the pasta. Mix all the dressing ingredients together and toss into the salad bowl. Season to taste. If liked, the salad can now be refrigerated for up to 2 hours until required. Just before serving, add the salad leaves and toss again to mix.

INGREDIENT OF THE WEEK – DRY CURED BACON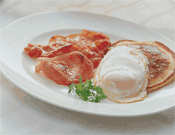 What Is It?

This is bacon which has no added water in the curing process, so it cooks without all the familiar white 'gunk' (which is basically water and additives) oozing out of it into the pan. A dry mixture, mainly consisting of salt, spices and flavourings, is rubbed into the raw bacon, and it is then left to allow the salt to draw the natural liquids out of the meat. The curing mixture varies (closely guarded secrets, one and all) and so does the time it is left to cure.

Where Does It Come From?

It is made in Ireland by individual butchers and small producers, who tend to be very particular about the breed and lifestyle of the pigs used; also, as the popularity of dry-cured bacon grows so does the scale of production - so there are several companies now producing substantial quantities. Examples include some from small producers like Fingal Ferguson, who makes Gubbeen Smokehouse bacon (made from the family's own pigs; Tel 028 28231, www.gubeen.com); JD Power's bacon from the renowned butcher's shop in Dungarvan, Co Waterford (Tel 058 42339); larger scale producers include the well-known Clonakilty brand, from West Cork, Rudd's from Co Offaly (now up and running again under new ownership) and the famous black bacon from O'Doherty's, Enniskillen (Tel 048 6632 2152 www.blackbacon.com), which many enthusiasts would say is the best of them all, A new arrival just starting up is 'Prue & Simon's', operated by Prue Rudd (of the original Rudd's) and her son Simon.

Where Can You Get It?

The smaller producers usually attend farmers' markets, so your local one is a great place to look; also available from butchers (often own brand, eg J D Power's, Clonakilty and O'Doherty's, as above) and, increasingly, from the better supermarkets – Clonakilty and Rudd's are now widely stocked in supermarkets. Some, eg O'Doherty's, are available by post.

What Can You Do With It?

Dry cured bacon is a very versatile product; fried or grilled in the traditional Irish breakfast, it cooks beautifully to make the must-have crisp rasher that seemed a thing of the past until recently. It's most often sliced and vacuum packed, but is also available in a piece to boil or bake; it's great for warm salads, diced as a garnish, cooked in strips for pasta dishes, made into bacon rolls to accompany poultry or for nibbles with drinks – anywhere where 'ordinary' bacon is called for, dry cured bacon is an option worth trying. The difference can be surprising.