Mackerel Tataki by Valentine Warner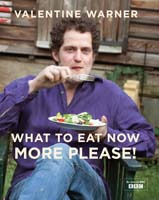 This is a more typical recipe from What To Eat Now - More Please! by Valentine Warner. And, as Valentine rightly says, "It's a fine way to approach small and lean summer mackerel. The tastes are so clean." (I'm not sure that too many of us are likely to "carry a tiny case with the rapid response kit of ingredients, [so] you can make this outdoors with fish caught or bought", but you could certainly make it in a holiday cottage.)

Make sure that the fish is super-fresh.

Serves 2

2 teaspoons sesame seeds
1 medium very fresh mackerel, gutted and degilled
11⁄2 teaspoons sesame oil
1⁄2 thumb of fresh root ginger
a squeeze of lemon juice
2 small spring onions
1⁄3 sheet of toasted Nori seaweed(optional)
2 teaspoons good Japanese soy sauce

In a small frying pan, toast the sesame seeds until light golden brown, then tip them out and leave them to cool. Fillet, de-bone and skin the fish. Removing the cellophane-thin skin of a mackerel can be tricky and, I must tell you, is not totally necessary, but it makes the dish that much better.

Chop the fish into small pieces no bigger than Scrabble pieces and put them in the bowl you plan to eat from. Use a really sharp knife so that you are cutting the fish, not mashing it.

Peel the ginger and chop it super-fine. Pull off the outer layer of the spring onions and trim any withered tops. Lay on their sides and cut into teeny-weeny rings. Really fine chopping is essential for the ginger and spring onions.

Add the onions, ginger and sesame seeds to the fish. If using, cut the Nori in half.

Place the squares on top of each other and snip some fine whiskers into the bowl.

Mix all together with the soy sauce, sesame oil and a squeeze of lemon juice.

Eat straight away with chopsticks, like a heron catching sticklebacks.