MacNean Mint Chocolate Truffles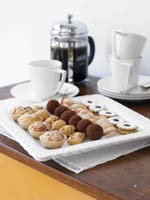 From Neven Maguire's (of MacNean House & Restaurant) new cookbook, Home Chef (HarperCollins, hardback €25), this truffle recipe is one of a set of five petits fours given in the book – unusually, it contains fresh chopped mint as well as crème de menthe; alternatively, Neven suggests trying rum, Cointreau or whiskey flavouring instead.

Makes about 30.

100ml (4fl oz) double cream
1 tbsp crème de menthe
1 tbsp chopped mint
225g (8oz) plain chocolate (min 55% cocoa solids), broken into squares
125g (4 1/2oz) butter, diced
For the coating
50g (2oz) plain chocolate (min 55% cocoa solids), broken into squares
25g (1 oz) good-quality cocoa powder

1. Place the cream in a small saucepan with the crème de menthe and mint. Bring to the boil, then remove from the heat and allow to cool. Set aside for 1 hour to allow the flavours to infuse.

2. Pour the infused cream through a sieve into a small, clean saucepan and bring to the boil. Reduce the heat, then whisk in the chocolate and butter until smooth and melted.

3. Place in a bowl, cover with cling film and then allow to cool in the fridge for 2-3 hours until the mixture is cold and set.

4. Remove the set mixture from the fridge about 30 minutes before you intend to use it. Scoop the mixture into thirty even-sized balls — a large melon baller is best for this, or use a teaspoon. Make sure to dip the melon baller in hot water between each scoop to make the job easier.

5. Arrange the truffles on a baking sheet lined with non-stick baking paper. Wearing clean rubber gloves, and with cold hands, shape the balls until slightly more rounded. Chill the baking sheet of balls in the fridge.

6. To make the coating, melt the chocolate in a heatproof bowl set over a saucepan of simmering water or in the microwave. Set aside to cool a little. Sift the cocoa powder into a small bowl.

7. Again wearing clean rubber gloves, dip the tips of your fingers in the melted chocolate and rub all over a truffle to lightly coat. Toss in the cocoa powder until completely coated and then arrange on a clean baking sheet lined with non-stick baking paper. Repeat until all the truffles are coated.

8. Cover with cling film and chill until needed. These will keep happily in the fridge for up to 2 weeks.

9. To serve, arrange the truffles on a plate or platter.