Paul Flynn's Baked Pears with Gingerbread and Cream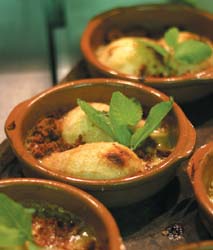 Waterford is a very foodie destination these days, with the Waterford Harvest Festival on next weekend and, down the road in Dungarvan, Paul Flynn of The Tannery Restaurant & Cookery School (multi- award-winning at last week's Food & Wine Magazine Restaurant of the Year Awards, bagging Best Munster Chef & Restaurant among others) is a great supporter of the best seasonal local ingredients - and now proud owner of the Glanbia Garden.

Formerly derelict land behind the cookery school, it's been cultivated with support from Glanbia, to supply home-grown produce for the cookery school and the restaurant. With Irish pears in season now, it's perfect timing for this simply scrumptious autumnal dessert from Paul's book Second Helpings (Collins Press, €30, hardback).

Serves 4

A small knob of butter
4 large pears (firm but ripe)
300ml /1/2 pint cream
50g/ 2oz caster sugar
2 drops vanilla extract
pinch ground cinnamon
pinch ground nutmeg
1 teaspoon freshly grated root ginger
4 slices gingerbread, crumbled (optional but nice)
sprigs of fresh mint to decorate.

Preheat the oven to 190'C/375'F/gas mark 5.

Lightly butter a large shallow baking dish, or four individual ones. Peel the pears and cut in half lengthways, then carefully remove the cores. Arrange on the buttered dish in a single layer, cut side down.

Mix the cream, sugar, vanilla, cinnamon, nutmeg and root ginger until well combined. Pour over the pears then bake for 20 minutes, or until the pears are almost tender and the cream is well reduced.

Remove the pears from the oven and sprinkle the crumbled gingerbread on top (if using).

Bake for another 5 minutes until well heated through. The pears should now be completely tender and the cream thick and bubbly. Leave to cool slightly and decorate with sprigs of mint before serving straight to the table.