Romantic Menu - Oysters Sashimi-Style - Scallops on Crunchy Croûtes - Roast breast of Guinea Hen - Hot Chocolate Fondant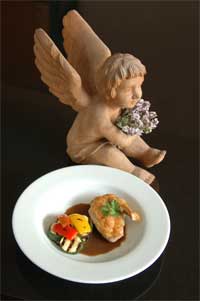 Although it may not feel like it with the seriously wintry weather we always seem to get at this time of year, St Bridget's Day officially marks the beginning of our Irish spring – and, as Tennyson said, this is 'when a young man's fancy lightly turns to thoughts of love'.

And why not – with St Valentine's Day giving the month a big romantic focus, the lengthening days, bulbs bravely emerging from the soil and birds beginning to twitter in the trees again, there is a feeling of the life cycle gradually gearing up for growth after the coldest winter we've experienced for years.

Which is all very cheering - so why not forget about the doom and gloom being predicted on all sides these days, get into the kitchen and rustle up something romantic for dinner…?

These dishes scale up well for a dinner party too.


Oysters Sashimi-Style
Renowned for their aphrodisiac qualities, oysters are an understandably popular choice on romantic menus - and this attractive dish is a great way to introduce them to anyone who may initially be a little wary. Featuring in our new seafood cookbook '
From Tide To Table
' , the recipe comes from Kevin Dundon of
Dunbrody Country House Hotel
and Cookery School, County Wexford - a great place for a foodie and/or romantic short break, with a little learning built into the programme alongside delicious food and drink – and pampering in their spa too ....
Oysters are excellent at this time of year and they are not too difficult to open; it really is quite simple (see below), and an oyster knife is a good investment if you are planning to serve them regularly.
SERVES 2
6 Pacific/Gigas oysters
1/2 tbsp sesame seeds
about 115g/4oz coarse rock salt
3 tbsp dark soy sauce
finely grated rind and juice of 1 small lime
1/2 tbsp shredded root ginger
1 small spring onion, finely shredded
2 tbsp sesame oil
1 garlic clove, thinly sliced
Scrub the oyster shells then place one, wrapped in a clean tea towel on a firm surface with the flattest shell uppermost and the hinge pointing towards you. Gripping the oyster firmly, insert an oyster knife into the gap in the hinge and twist to snap the shells apart.
Slide the blade of the knife along the inside of the upper shell to sever the muscle that keeps the shells together. Lift the lid off the top shell, being careful not to spill any of the juices. Carefully clean away any bits of broken shell and finally run the knife under the oyster to loosen it from the shell. Repeat until all the oysters are opened, then arrange on a tray and keep in the fridge until you are ready to serve.
Heat a frying pan over a medium to low heat and add the sesame seeds. Cook for 3-4 minutes, stirring regularly until they are lightly toasted. Tip out of the pan onto a plate and set aside until needed.
To serve, arrange three oysters on a bed of rock salt on each serving plate. In a bowl, mix together the soy sauce with the lime rind and juice, then spoon over the oysters. Scatter the ginger, spring onions and reserved toasted sesame seeds on top. Leave to stand for 5 minutes to allow the flavours to develop.
Meanwhile, heat the sesame oil in the frying pan and sauté the garlic until it is golden and the sesame oil is nearly smoking. Drizzle over the oysters and serve immediately.
VARIATION
If using native oysters, it is best to serve them in the classic way: Put crushed ice onto the plates and then, if possible, small mounds of seaweed as it sets the oysters off so well. Arrange the opened oysters on top and have lemon wedges on hand. It is worth noting that about 15 minutes on ice is enough to chill the oyster without overdoing it.
Scallops on Crunchy Croûtes
Shellfish and crustaceans, such as scallops and Dublin Bay prawns, may have wider appeal than oysters - they are also in peak season at the moment and really at their luscious best. Although frozen scallops may contain a disappointing amount of water, fresh scallops are succulent and naturally sweet, needing little more than a quick turn in a hot pan to make a delicious treat. When something more is needed, try this simple yet impressive dish, from
Irish Country House Cooking – The Blue Book Collection
, which makes a colourful starter or main course that is quick and easy to prepare.
SERVES 2 AS A MAIN COURSE, OR 4 AS A STARTER
4 medium vine-ripened tomatoes
2-3 cloves garlic, finely chopped
3 fl oz/75 ml extra virgin olive oil
4 fl oz /100ml best quality balsamic vinegar
salt, freshly ground pepper & a pinch of caster sugar
12 king scallops, shelled
Vienna loaf
Sprig of fennel or parsley to garnish
Slice the tomatoes and put into a bowl with the garlic, olive oil, balsamic vinegar and a light seasoning of salt, pepper and sugar, to marinate.
Trim the scallops, slice in half crossways and drain well on a wooden board.
Cut four 3/4 inch / 2 cm thick slices of bread from the Vienna loaf and remove the crusts. Lightly oil and brown on a griddle or under the grill to make four thick croûtes.
Heat the griddle again until very hot, lightly oil it and grill the scallops for 1-2 minutes, turning once. (Do not overcook or the scallops will lose their luscious texture and become rubbery.)
To serve: Lay the croûtes on two or four warmed plates. Remove the tomatoes from the marinade and lay them on top, then arrange the scallops on top of the tomatoes, with their corals to the side; taste the marinade and adjust the seasoning if necessary, then drizzle the over the top. Garnish with a sprig of fennel or parsley and serve immediately.
Roast breast of Guinea Hen with Char-grilled Vegetables and Tapenade Sauce
Guinea hen is not very often seen on menus and its slightly gamey flavour makes a more interesting dish than chicken – although chicken breasts could certainly be substituted in this recipe from the lovely
Kilgraney House
, County Carlow, which also features in
Irish Country House Cooking
. The tapenade given here is also quite an unusual recipe and well worth making; however, a good quality commercial tapenade could be used in the sauce instead if preferred.
Irish-grown peppers are now available all year, although the courgettes and aubergine would be imported in winter; if the accompaniment seems too summery, a simple vegetable such as buttered spinach would work well instead.
SERVES 4, but could easily be adapted to make a romantic main course for two.
For the guinea hen:
4 guinea fowl breasts, or chicken breasts, part-boned
1 tbsp/ 15 ml sunflower oil
1oz/ 25g unsalted butter
salt and freshly ground pepper
For the char-grilled vegetables
½ a red pepper, ½ an orange pepper and ½ a yellow pepper, de-seeded, cut into four strips
2 courgettes, washed, each topped, tailed and cut into six or eight slices
1 aubergine, washed, topped & tailed and sliced into eight
oil for grilling, as required
For the sauce:
1oz/ 25g/ ¼ stick unsalted butter
2 shallots, finely sliced
10 fl oz /300ml/ 11/3 cups red wine
10 fl oz /300ml/ 11/3 cups chicken stock
2 tbsp/30 ml/ 21/2 US tablespoons tapenade (see below)
For the tapenade:
2oz/50g tin of anchovies, drained
6oz/175g tinned black olives, drained and pitted
2oz /50g/1/3 cup approx capers, rinsed in water
4oz /100g tinned tuna in oil, drained
juice of ½ a lemon
1 sprig of thyme, stems removed
1 bay leaf
4 fl oz /120ml/ ½ cup olive oil
2 cloves garlic, crushed
1 tbsp brandy
First prepare the tapenade:
Place all the listed ingredients in a food processor and blend until smooth, then place in an airtight container. Make in advance and store in the fridge; keeps for up to a week.
To prepare the sauce:
Put the butter into a medium-sized saucepan and melt over moderate heat, then add the shallots and gently cook until golden. Add the wine and simmer to reduce until almost dry, then add the stock and simmer again until reduced by two-thirds. Stir in 2 tablespoons (30ml/21/2 US tablespoons) of the tapenade and bring to the boil. Strain into a clean saucepan and keep warm.
To prepare the vegetables:
Dry the aubergine slices on kitchen paper. Brush the prepared vegetables lightly with oil and place on a hot grill plate or heavy frying pan; cook until seared, then turn and cook until seared on the second side. Keep warm.
To cook the guinea fowl:
Preheat the oven to 230°C/450°F/Gas Mark 8
Season the breasts with salt and pepper.
Heat a large frying pan until hot, add the oil and butter. When the butter starts to foam, add the breasts, skin side up and cook for two minutes. Turn over and cook for a further three or four minutes until the skin is golden brown. Transfer to a warm oven-proof dish and place in the oven for two or three minutes.
Remove from the oven and allow to rest in a warm place for at least ten minutes. Return the breasts and vegetables to the oven for two minutes. Reheat sauce over a gentle heat.
To serve:
Divide the vegetables between four warmed plates. Spoon the sauce around the vegetables and place a guinea fowl breast next to the vegetables.
Hot Chocolate Fondant
This seriously more-ish hot chocolate cake dessert comes from John Kostuik, head chef at the lovely
Rathsallagh House
, Dunlavin, Co Wicklow, a romantic hideaway that is renowned for immaculate sourcing and simply delicious food. With its intense flavour, this should make about 10 portions, and John says they keep well in the freezer for about a week so you can use a couple for a romantic night in and save some for another evening when having friends in for supper.
100 gm / 4 oz best quality dark chocolate, eg Valrhona or Green & Black
85 gm / 31/2 oz butter
20 gm / 1 oz flour
70 gm/3 oz caster sugar
3 free range eggs.
Melt the chocolate and the butter separately, then turn into a mixing bowl and mix together.
Blend in the flour, then the sugar.
Add the eggs, one at a time, and mix gently until incorporated.
Leave the mixture for about 6 hours to allow it to set.
When ready to cook, preheat a warm oven, 170'C/ 325'F/gas mark 3.
Line 10 ring moulds with parchment paper, add enough of the chocolate mixture to fill each one two-thirds full, then bake in the preheated oven for about 9-12 minutes.
Start to check the cakes after 9 minutes - they are done when a firm crust has developed on top, but should be still runny on the inside.
Serve immediately.
Vanilla ice cream and a pretty, sharp-flavoured fruit garnish, such as raspberry or cranberry, make complementary accompaniments.