Strawberry Sundae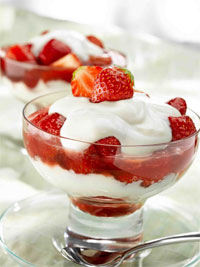 Early in the strawberry season simplest is best, and it's wonderful to luxuriate in the sunny flavour of the luscious big berries, perhaps served with a hint of caster sugar and cream or good vanilla ice cream.

Or try a sprinkling of orange juice and a light grinding of black pepper. As the season goes on and the berries get smaller, chop them up and mix roughly with broken meringue and cream.

Or you might try this simple Strawberry Sundae.

Serves 4

450g Irish strawberries
2 tablespoons redcurrant jelly
1 x 500g carton of fromage frais

Wash and hull the strawberries, reserving two to decorate the glasses.

Put the redcurrant jam in a pan with 2 teaspoons of water and heat gently, stirring until the jam has dissolved. Bring to the boil, stir in the remainder of the strawberries, then remove from the heat and allow to cool.

Layer this mixture with the fromage frais in individual glasses, finishing with fromage frais.

Decorate with the reserved strawberries, sliced in half, and serve.