Strawberries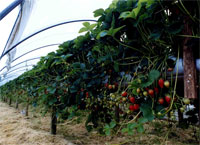 Irish strawberries are now available through much of the year thanks to the fact that Keelings (www.keelings.com), in particular, have invested so heavily in glasshouses, extending the season from April to November instead of a few weeks in summer. And surprisingly good they are too, full of flavour even in the off-season, and a very welcome alternative to imports.

But there's nothing to beat the beautiful berries in their natural season, and it's lovely to see them on sale at roadsides all around the East and South-East.

The sunny South-East – and Wexford in particular – is the place to be when it comes to strawberry growing, and all Ireland will be celebrating their little treasures this month at the annual Wexford Strawberry Fair Festival, which takes place this year on the weekend of Friday 25th - Sunday 27th June 2010, at Enniscorthy. [Riverside Park Hotel, The Promenade, Enniscorthy, Co Wexford]

This year's festival will be especially important as 2010 marks Enniscorthy's 1500th anniversary. Expect music, theatre, street entertainment, markets and many of the events traditionally associated with the festival. The festival also coincides with the Rythm Routes Festival with lots of entertainment to be had. With street music, kids entertainment, a farm and craft market, strawberry princesses, fun for all the family.

Strawberry Ball on 23rd June. Strawberry Queen chosen 26th June. Strawberry Festival includes music, street theatre, family fun, festivities, local produce, strawberries & cream.

RECIPE: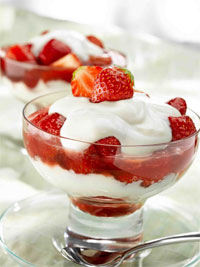 Strawberry Sundae

Early in the strawberry season simplest is best, and it's wonderful to luxuriate in the sunny flavour of the luscious big berries, perhaps served with a hint of caster sugar and cream or good vanilla ice cream. Or try a sprinkling of orange juice and a light grinding of black pepper. As the season goes on and the berries get smaller, chop them up and mix roughly with broken meringue and cream. Or you might try this simple Strawberry Sundae.

Click for recipe


Apps and Books
iCook with Neven

Join Neven Maguire in the kitchen with 60 of his favourite recipes - old & new - on his very ...

more...

Blackberry App

Quickly and easily find all the very best places to eat, drink & stay across the island of I ...

more...

iPhone App (Free)

Quickly and easily find all the very best places to eat, drink & stay across the island of I ...

more...