Summer Salad with Baby Leeks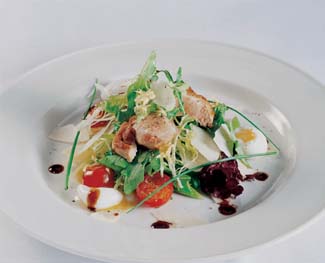 This pretty salad is adapted from a recipe in 'Roly's Bistro – The Restaurant And Its Food' (Gill & Macmillan) and, if you grow your own vegetables, this is just the dish for some of your early salads and the thinnings from your leek crop, which can be used instead of buying expensive baby leeks.

At the restaurant, quail and quail eggs would be used, but home cooks can adapt it to use more everyday ingredients – chicken breast and chicken eggs will be just fine.

Serves 4.

4 eggs, preferably free range
2 chicken breasts, preferably free range, sliced
200g bay leeks/leek thinnings, washed & trimmed
2 tbsp balsamic vinegar
12 cherry tomatoes, halved
3 tbsp olive oil
1 tbsp sherry vinegar (or wine vinegar)
20g parmesan shavings
2 tbsp chopped chives
handful of rocket leaves or mixed leaves
vegetable oil for frying

Boil the eggs for 21/2-3 minutes according to size, then drain and refresh in very cold water; carefully remove the shells – they will be wobbly as the yolks will still be runny.

Cut the prepared leeks into 5cm lengths and cook in plenty of lightly salted boiling water until tender but still firm. Drain and pat dry; while the leeks are still warm, pour on the balsamic vinegar, then add the tomatoes.

Heat some vegetable oil in a pan and sauté the chicken breasts quickly over fairly high heat, to crispen the outside while cooking the inside thoroughly but keeping it moist.

Mix the olive oil with the sherry vinegar (or wine vinegar) and season with salt and pepper.

To serve, divide the leeks and tomatoes between four plates, top with leaves and the crispy chicken breast and halve or quarter an egg for each serving.

Pour over the dressing, scatter with parmesan shavings and chives, finish with a light grinding of pepper and serve with crusty bread to accompany.