Toad in the Hole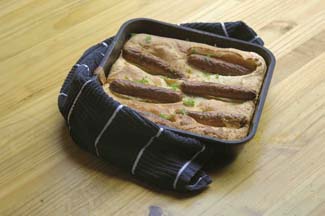 Top quality sausages such as the Allshires' range are the key to this simple family dish from The Creators, which was one of author Dianne Curtin's favourite after school dinners as a child and is perfect for the time of year.

Sometimes, when her mother made this, she would add half a peeled and grated onion to the mix, which prevents the batter billowing up as much as it does without it, but gives a lovely, oniony taste.

Rosscarbery Recipe sausages are available as traditional, traditional gluten free, spicy tomato and (perhaps best of all for this dish) Cumberland.

Taken from Dianne Curtin's book The Creators (Atrium/Cork University Press, EUR29.95), which highlights some of the best artisan products in County Cork and the families who produce them - click here for more.

Serves 4

100g/4oz plain flour
pinch of salt
2 eggs, beaten
300mls1/2pt milk
sunflower oil
8 Rosscarberry Recipe sausages

Sift the flour and salt into a bowl and make a well in the centre. Add the eggs, bringing the flour in with a whisk and incorporating it gradually. Whisk in the milk, to make the batter smooth.

Arrange the sausages in a roasting tray and pour in 2 tbsp oil. Cook in a pre-heated oven, Gas 6 400F 200C for a few minutes, until the oil is smoking and the sausages are beginning to take colour. Carefully remove the tin from the oven. Pour in the batter mix, then return to the oven and cook for 25 minutes, or until the batter is golden, risen and crisp, and sausages are well browned.