Georgina Campbell's Ireland Guide (12th Edition)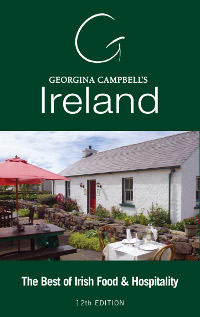 "…the long established bible for foodies and travellers alike"

The Sunday Business Post
Dubbed the "glovebox bible" and with countless fans, this is the critics choice of guide books. This 12th edition is the most recent edition of the must have guide book to Irish hospitality & food. An indispensable guide for independent travellers.
Our aim has always been to to lead you to the best places to eat, drink & stay wherever you are in Ireland - north or south - and this new compact edition - a companion guide to our website - also includes much else for food lovers to enjoy along the way including Producers, Places to Buy and Places to Learn - and while this guide is comprehensive, it is also highly selective.

This is the guidebook that will take you to magical places in Ireland that no other guide book can, it provides the perfect reference for planning holidays and short breaks in Ireland in the most enchanting surroundings plus information for business travellers and conference planners.
Makes an ideal gift for the discerning traveller & foodie in your life.
"It's a compact volume but there's a wealth of information on where to stay, eat, visit and shop crammed into its 576 pages" Marie-Claire Digby, The Irish Times
"There's only one problem with the new edition of Georgina Campbell's Ireland - there are so many great places to eat, stay and buy artisan produce listed in it that it would be impossible to visit even half of them. Still you'll have great fun trying." Gillian Nelis, Sunday Business Post
"A must have to keep in your car...a perfect small gift for a treasured friend" Darina Allen, Irish Examiner
KEY FEATURES:

• The definitive guide for the discerning traveller in Ireland leads readers to all of the best places to eat, drink and stay throughout Ireland – and this new compact edition also includes much else for food lovers to enjoy along the way including Producers, Places to Buy and Places to Learn.
• Independently assessed - recommendations are personally selected by the author and chosen solely on merit. Establishments considered for Georgina Campbell's Ireland recommendation are independently re-assessed annually, with updates given online.
• This exciting new edition is specially designed as a companion to Ireland's premier independent hospitality website, Ireland-guide.com, and its associated Awards.
• Within its compact format, a wide range of categories - hotels, restaurants, cafés, pubs, country houses, guesthouses and farmhouses - plus information on local and artisan foods and where to buy them, ensures the best choices for the discerning traveller in all price ranges.
• Brief, accurate descriptions summarise all the best establishments throughout Ireland, North and South, and are partnered by more detailed information on the ireland-guide.com website and app.
• Producer entries highlight the quality and variety of Irish produce that visitors will see on leading menus and in the quality shops listed; many products are also available from markets and online.
• Country and county introductions put entries into context, augmented by concise background on towns & villages, and useful information
• Easy to use - entries arranged alphabetically by county
• Author/editor has long experience in Ireland as a food and travel writer
• High quality production. • Clear mapping • Outstanding value.
c. 576 pages, full colour.

All Georgina Campbell Guides follow a strict policy - establishments are selected through merit alone, they are judged through unbiased assessment made by anonymous inspections - all are included in the guides for free.

Quotes for previous edition of the Guide:

• "difficult to find a more comprehensive handbook for eating, drinking, sleeping…on this bountiful island" Sunday Business Post, Ireland's Top 50 in Food

• "renowned for finding hidden out-of-the-way gems in every corner of Ireland" The Star

• "popular guide" Irish Times

• "…the most reliable pointer to the best in Irish hospitality" Daily Mail

• "…Ireland's leading hotel and restaurant guide" Daily Mail

• "…only the best will squeeze into Ms Campbell's Ireland – a respected 'glove box bible'" Daily Mirror
€10.00 * (free p&p in Ireland)