Samsung Bada App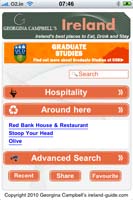 Quickly and easily find all the very best places to eat, drink & stay across the island of Ireland with the cool new Georgina Campbell's Ireland Guide Samsung Bada Application - have access to the most highly respected, trusted & critically acclaimed independent guide to Irish hospitality whenever you want, wherever you are!

From Restaurants & Cafés to Pubs & Wine Bars to Hotels, Country Houses, Castles and B&Bs – all recommended establishments have been visited anonymously by experienced assessors who pay their bills like anyone else, it is a merit based guide with only the best getting recommended ensuring that we save you the time and hassle of extensive research. We do not charge for a listing thereby ensuring that we have all of the very best establishments.

*NB - this app will only work on Samsung Bada mobile phones, it will not work on other phones such as Samsung Google Android eg Samsung Galaxy.

Click here to view the Georgina Campbell's Ireland Guide Samsung Bada App & Download for free!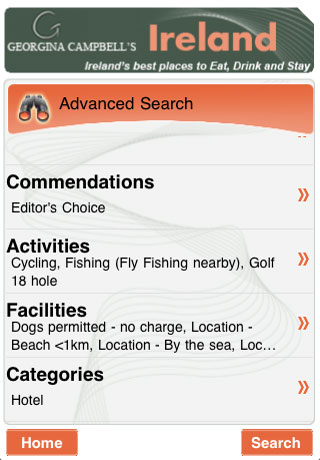 Key Features:

• Find the best places to eat, drink & stay anywhere in Ireland quickly & easily whenever you want wherever you are - at home or on the move

• Traditional web search – Eat/Drink/Stay – County – Town – Price Band – Category

• Around Here – In town and can't decide where to eat? Or in an area that you aren't familiar with? End the dilemma posed by not being familiar with an area you are in or when being indecisive - find the best places to eat, drink or stay around your location wherever you are in Ireland

• Advanced Search – looking for that perfect place to eat/drink/stay in Ireland but have certain requirements e.g. Spa, Swimming Pool, Family Friendly, Romantic Venue, Beach on Site, Walking, Peaceful Location etc, etc? Then simply tick all of your choices and the most suitable establishments will be returned in descending order highlighting what is/isn't available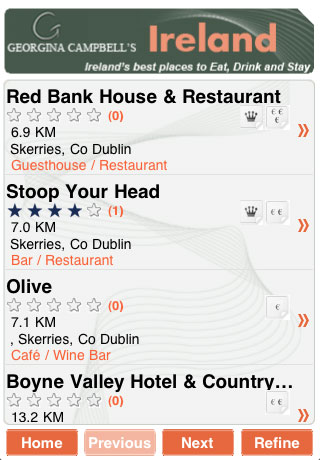 Establishment Features:

• Name, category, web address, phone number, directions, descriptive narrative, key data (including opening times, prices, features etc)

• Comments – leave comments & star ratings by category for each establishment that you visit & read others that have been left

• Add to favourites & see recently viewed from home page – ensures you don't have to do multiple searches for the same information

• View on Google Map – see exactly where an establishment is and "finger pinch" to zoom in and out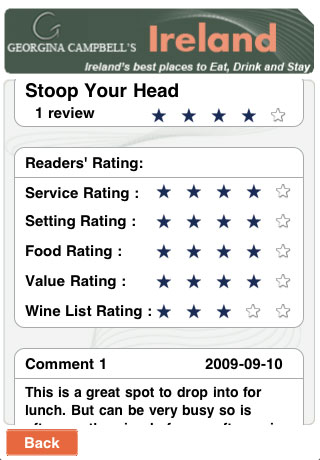 Key Points:

• The Georgina Campbell's Ireland Guide Samsung App has all the very best places to eat, drink & stay across the island of Ireland

• The most highly respected, trusted & critically acclaimed independent guide to Irish hospitality

• Powered by ireland-guide.com – Ireland's most popular independent hospitality & travel website & winner of a prestigious Golden Spider Award

• Continuously updated throughout the year – new recommendations added, some dropped, amendments/corrections made as required

• Potential recommendations are assessed anonymously, we pay our bills like anyone else & only recommend the best

• Entirely merit based system, no charge for recommendation ensures that we have all the best establishments

• Editor Georgina Campbell has been writing about all aspects of Irish hospitality & food spanning four decades


Click here to view the Georgina Campbell's Ireland Guide Samsung Bada App & Download for free!

View other Ireland Guide Apps (iPhone, Blackberry, Nokia)



€0.00 (ex. VAT) * (free p&p in Ireland)