Nokia App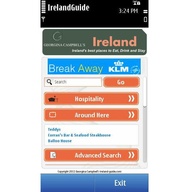 Quickly and easily find all the very best places to eat, drink & stay (& much more) across the island of Ireland with the cool new Georgina Campbell's Ireland Guide Nokia Application - have access to the most highly respected, trusted & critically acclaimed independent guide to Irish hospitality whenever you want, wherever you are!

From Restaurants & Cafés to Pubs & Wine Bars to Hotels, Country Houses, Castles and B&Bs – all recommended establishments have been visited anonymously by experienced assessors who pay their bills like anyone else, it is a merit based guide with only the best getting recommended ensuring that we save you the time and hassle of extensive research. We do not charge for a listing thereby ensuring that we have all of the very best establishments.
Also:
- Golf Courses
- Gardens
- Festivals/Events
- Special Offers
- Articles
- Area Guide
- G Club
- Improved mapping & route finding functionality
- Images of establishments
- Everything is interlinked - so find local golf courses, events, special offers etc wherever you are.
Click here to download the app at the Nokia OVI Store now
View other Ireland Guide Apps (
iPhone
,
Blackberry
,
Samsung
)
€0.00 (ex. VAT) * (free p&p in Ireland)