Archways B&B - Gourmet Springtime Refresher Break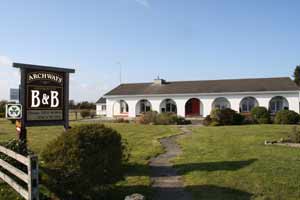 Archways B&B is well worth knowing about as there's absolutely no doubt that Eileen and Chris Hadlington, your hosts in The Archways B&B, do everything right - and Chris is a great chef...
Gourmet Springtime Refresher

2 Nights Bed & Breakfast plus Dinner on 1 Night for just €85 per person sharing a twin or double room at our award winning home.
Enjoy a refreshing break in the Wexford country side, near the coast and offering some of Irelands finest food, individually cooked just for you, our guests. To take advantage of this offer: please Phone or Email using the Code - SF14
Click here to book/enquire or call (053) 915 8111
T&Cs:
Offer is valid any day of the week and available until Tuesday 15th April (Includes St Patricks night special menu on Monday 17th March).
You must mention this special offer at the time of reservation.
The Guide is not generally a fan of roadside B&Bs but this smart modern house, set reasonably well back from the Rosslare Road just outside Tagoat, is an exception that is well worth knowing about. Eileen and Chris Hadlington both have some 30 yea ...
more...
Show Me All Special Offers